Piney Woods School Changing the world, "One student at a time."
Sharing is caring!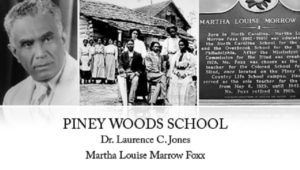 Posted by Jim Clingman
April 11th, 2016
Piney Woods is a boarding school for grades 9-12, founded in 1909 by Dr. Laurence Jones.It is located 21 miles south of Jackson, Mississippi. Nestled among the pine trees, amid rolling hills, lakes, and farmland, during my initial visit, Piney Woods gave me the feeling of having found a lost treasure. As I walked the campus and learned about the history of this school, a deep sense of melancholy came upon me and, feeling almost ashamed, I questioned why I had not come to that magnificent, historic, and wonderful place much sooner.
Since that first visit to the school in 2004, when I spent two days and nights on campus, had meals with the students, sat in on their classes, and toured the grounds, I have been advocating for Piney Woods. When former President, Dr. Charles Beady,
told me the story about a national fundraising effort in 1954, I decided to start another such fundraiser some fifty years later; our goal was to raise $1 million ($5.00 each from 200,000 donors) for Piney Woods via a group we established known as the Blackonomics Million Dollar Club (BMDC). We helped a lot but came nowhere close to our goal.
Back in 1954, Ralph Edwards, host of the television show, "This is Your Life," featured Dr. Laurence Jones' life. Edwards was so impressed with Jones and Piney Woods that he put out a call to his viewers to send in $1.00 each to the school in an effort to raise $1 million; according to Dr. Beady, Edwards' campaign raised about three-quarters of a million. I figured if $750,000 could be raised in 1954 from an effort that went out over television, a medium only a few families were fortunate enough to have, surely we could eclipse that effort in 2004 with the Internet at our disposal. Optimist that I am, I am absolutely sure we can do that in 2016.
By way of example, Brother Umar Johnson has raised hundreds of thousands of dollars for his proposed school. He has not yet determined where it will be located, but donors have responded with their dollars nonetheless. Piney Woods has been around for 106 years; it is viable, competitive, and dedicated to serving students and families, most of which are unable to pay the entire tuition necessary for room and board. Why wouldn't we do the same—and more—for Piney Woods? Piney Woods President, Will Crossley says, "Our students – both male and female – hail from more than 24 states and foreign jurisdictions; from inner-city urban locations, as well as rural spaces; from points north, south, east, and west. As diverse as they are, our students share this status: they all receive scholarship support to help fund their education here. They also share an amazing result: admission to post-secondary educational institutions. I know these principles well and in a personal way. While I am the fifth president of this historic, 107-year-old institution, I am the first alumnus to head our school."
The school's national press release states, "Piney Woods creates a living and learning environment where students are expected to excel academically, and become civically engaged and socially responsible. Over 75% of the pupils hail from lower income areas where the failing public school systems and negative peer pressure often inhibit them from accomplishing their life goals. However, after undertaking Piney Woods Schools' rigorous educational, spiritual and vocational curriculums 99% of the graduating seniors are admitted to colleges and universities."
The "Give from the Heart National Challenge 2016" fundraiser campaign for Piney Woods began in February 2016. On Saturday, April 30, 2016, an all-star benefit concert will take place at the Word and Worship Church in Jackson, MS. Please plan to attend; but if you cannot, please send a donation to this deserving and worthwhile institution. This is an opportunity for everyone to help Piney Woods maintain the same high-quality education it has provided for years, an education that results in 95% of its graduates going on to college. I believe in the "little from a lot" way of getting things done. In this case once again, if 200,000 persons sent $20.00 every six months to Piney Woods, the school could be well on its way to building an endowment, continue to have the financial ability to give even more student scholarships, pay its teachers and administration attractive salaries, and maintain the school's infrastructure. Who knows? Maybe your child or grandchild will have the privilege to attend Piney Woods one day.
Why not plan to visit the campus soon, and please send your tax-deductible donation to Piney Woods School, U.S. Highway 49 South, Piney Woods, Mississippi, 39148. For more information see www.pineywoods.com or call 601 845 2214.
Related Posts
Scroll down to see next article