"Proof of Consciousness" (P.O.C) the Host of REVIVE!!! 2/19/2017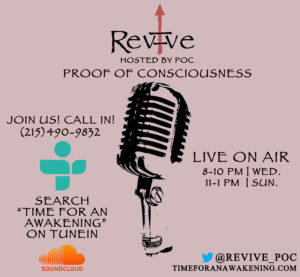 "Proof of Consciousness" (P.O.C) the Host of REVIVE!!! 2/19/2017
TOPIC: Entrepreneurship
Guest: Nataki Kambon spokes person for "Lets Buy Black 365". Nataki Kambon is a small business growth strategist and consultant. She works with entrepreneurs to grow businesses into profitable self sustaining enterprises through marketing, management, operations and accounting services & Maryam Foye has created places such as the HBC theatre and The Den for organizations that are interested in finding ways to team build, inspire creativity and promote innovative thinking. This is done by improv, music, drama and movements which are used to uplift and empower their team. She also offers youth services as well which gives youth a platform to critically think, write, and explore different creative outlets.
YOU CAN CATCH REVIVE EVERY SUNDAY 11AM-1PM & EVERY WEDNESDAY 8PM-10PM!!!  
WE NEED YOU ALL TO BE APART OF THE CONVERSATION!!!

Podcast: Play in new window | Download (Duration: 2:11:50 — 60.6MB) | Embed
Scroll down to see next article