"Proof of Consciousness" (P.O.C) the Host of REVIVE!!! 2/12/2017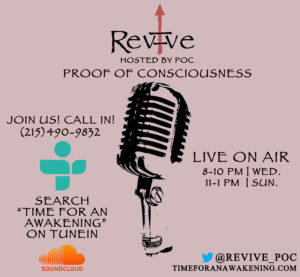 "Proof of Consciousness" (P.O.C) the Host of REVIVE!!! 2/12/2017
TOPIC: Education
Guest: Princess Best the founder of  Hip Hop MOMMA "HIPHOPMOMMA" is a Emcee-Women's Intergenerational Speaker-Hiphop Theater Arts Educator-Sisterhood Specialist &  Amil Cook who is part of the movement #HipHopEd he is an Evangelist, Technologist, Strategist, Educator & Student ! #HipHopEd is bigger than a HASHTAG!!  
YOU CAN CATCH REVIVE EVERY SUNDAY 11AM-1PM & EVERY WEDNESDAY 8PM-10PM !!!  
WE NEED YOU ALL TO BE APART OF THE CONVERSATION !!!
Podcast: Play in new window | Download (Duration: 2:10:54 — 60.1MB) | Embed
Scroll down to see next article