WE MUST NEVER FORGET!!!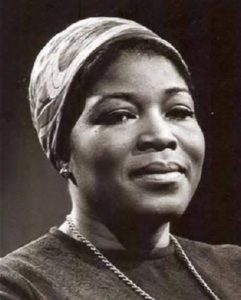 Betty Shabazz , born Betty Dean Sanders and also known as Betty X, was an American educator and civil rights advocate. She was the wife of Malcolm X.
Betty Dean Sanders was born on May 28, 1934, to the teenaged Ollie Mae Sanders and Shelman Sandlin. While Betty spent most of her childhood in Detroit, she may have been born in Pinehurst, Georgia. At the age of 11, Betty began living with businessman Lorenzo Malloy and his wife Helen, a prominent businessman and his wife. Helen Malloy was a founding member of the Housewives League of Detroit, a group of African-American women who organized campaigns to support black-owned businesses and boycott stores that refused to hire black employees. She was also a member of the National Council of Negro Women and the NAACP.
Despite their lessons on black self-reliance, the Malloys never spoke with Sanders about racism. Looking back in 1995, Shabazz wrote: "Race relations were not discussed and it was hoped that by denying the existence of race problems, the problems would go away. Anyone who openly discussed race relations was quickly viewed as a 'troublemaker.'" Still, two race riots during her childhood—in 1942 when the Sojourner Truth housing project was desegregated, and one the following year on Belle Isle—made up what Shabazz later called the "psychological background for my formative years". After she graduated from high school, Sanders left her foster parents' home in Detroit to study at the Tuskegee Institute (now Tuskegee University), a historically black college in Alabama that was Lorenzo Malloy's alma mater. She intended to earn a degree in education and become a teacher.
Nothing had prepared Sanders for Southern racism. So long as she stayed on campus, she could avoid interacting with white people, but weekend trips into Montgomery, the nearest city, would try her patience. Black students had to wait until every white person in a store had been helped before the staff would serve them—if they received any service at all. When she complained to the Malloys, they refused to discuss the issue; in a 1989 interview, Shabazz summarized their attitude as "if you're just quiet it will go away."
Sanders' studies suffered as a result of her growing frustration. She decided to change her field of study from education to nursing. The dean of nursing, Lillian Harvey, encouraged Sanders to consider studying in a Tuskegee-affiliated program at the Brooklyn State College School of Nursing in New York City. Against her foster parents' wishes, Sanders left Alabama for New York in 1953.
In New York, Sanders encountered a different form of racism. At Montefiore Hospital, where she performed her clinical training, black nurses were given worse assignments than white nurses. White patients sometimes were abusive toward black nurses. While the racial climate in New York was better than the situation in Alabama, Sanders frequently wondered whether she had merely exchanged Jim Crow racism for a more genteel prejudice.
During her second year of nursing school, Sanders was invited by an older nurse's aide to a Friday-night dinner party at the Nation of Islam temple in Harlem. "The food was delicious," Shabazz recalled in 1992, "I'd never tasted food like that." After dinner, the woman asked Sanders to come to the Muslims' lecture. Sanders agreed. After the speech, the nurse's aide invited Sanders to join the Nation of Islam; Sanders politely declined. The older woman told Sanders about her minister, who was not at the temple that night: "Just wait until you hear my minister talk. He's very disciplined, he's good-looking, and all the sisters want him."
Sanders enjoyed the food so much, she agreed to come back and meet the woman's minister. At the second dinner, the nurse's aide told her the minister was present and Sanders thought to herself, "Big deal." In 1992 she recalled how her demeanor changed when she caught a glimpse of Malcolm X:
Then, I looked over and saw this man on the extreme right aisle sort of galloping to the podium. He was tall, he was thin, and the way he was galloping it looked as though he was going someplace much more important than the podium. … He got to the podium—and I sat up straight. I was impressed with him.
Sanders met Malcolm X again at a dinner party. The two had a long conversation about Sanders's life: her childhood in Detroit, the racial hostility she had encountered in Alabama, and her studies in New York. He spoke to her about the condition of African Americans and the causes of racism. Sanders began to see things from a different perspective. "I really had a lot of pent-up anxiety about my experience in the South," Shabazz recalled in a 1990 interview, "and Malcolm reassured me that it was understandable how I felt."
Soon Sanders was attending all of Malcolm X's lectures at Temple Number Seven in Harlem. He always sought her out afterwards, and he would ask her a lot of questions. He also began to pressure her to join the Nation of Islam. In mid 1956, Sanders converted. Like many members of the Nation of Islam, she changed her surname to "X", which represented the family name of her African ancestors that she could never know.
Betty X and Malcolm X did not have a conventional courtship. One-on-one dates were contrary to the teachings of the Nation of Islam. Instead, the couple shared their "dates" with dozens, or even hundreds of other members. Malcolm X frequently took groups to visit New York's museums and libraries, and he always invited Betty X.
Although they had never discussed the subject, Betty X suspected that Malcolm X was interested in marriage. One day he called and asked her to marry him, and they were married on January 14, 1958, in Lansing, Michigan. By coincidence, Betty X became a licensed nurse on the same day.
Over time, the family dynamic changed, as Malcolm X made small concessions to Betty X's demands for more independence. In 1969, Shabazz recalled:
"We would have little family talks. They began at first with Malcolm telling me what he expected of a wife. But the first time I told him what I expected of him as a husband it came as a shock. After dinner one night he said, "Boy, Betty, something you said hit me like a ton of bricks. Here I've been going along having our little workshops with me doing all the talking and you doing all the listening." He concluded our marriage should be a mutual exchange."
The couple had six daughters. Their names were Attallah, born in 1958 , Qubilah, born in 1960 Ilyasah, born in 1962; Gamilah Lumumba, born in 1964 and twins, Malikah and Malaak, born in 1965 after their father's assassination and named for him.
On February 21, 1965, in Manhattan's Audubon Ballroom, Malcolm X began to speak to a meeting of the Organization of Afro-American Unity when a disturbance broke out in the crowd of 400. As Malcolm X and his bodyguards moved to quiet the disturbance, a man rushed forward and shot Malcolm in the chest with a sawed-off shotgun. Two other men charged the stage and fired handguns, hitting him 16 times.
Shabazz was in the audience near the stage with her daughters. When she heard the gunfire, she grabbed the children and pushed them to the floor beneath the bench, where she shielded them with her body. When the shooting stopped, Shabazz ran toward her husband and tried to perform CPR. Police officers and Malcolm X's associates carried him to a stretcher, and brought him to Columbia Presbyterian Hospital, where he was pronounced dead.
Shabazz had difficulty sleeping for weeks after Malcolm X's assassination. She suffered from nightmares in which she relived the death of her husband. She also worried about how she would support herself and her family. The publication of The Autobiography of Malcolm X helped, because Shabazz received half of the royalties.(Alex Haley, who assisted Malcolm X in writing the book, got the other half. After the publication of his best-seller Roots, Haley signed over his portion of the royalties to Shabazz.
Actor and activist Ruby Dee and Juanita Poitier (wife of Sidney Poitier) established the Committee of Concerned Mothers, to raise funds to buy a house, and pay educational expenses for the Shabazz family. The Committee held a series of benefit concerts at which they raised $17,000. They bought a large two-family home in Mount Vernon, New York. Also living in Mount Vernon at that time was her close friend, the musician and civil rights activist Nina Simone.
Shabazz never remarried. She raised her six daughters alone, aided by annual royalties from her husband's book The Autobiography of Malcolm X and other publications. In late 1969, Shabazz completed an undergraduate degree at Jersey City State College, followed by a doctoral degree in higher-education administration at the University of Massachusetts. Shabazz began to accept speaking engagements at colleges and universities. She often spoke about the black nationalist philosophy of Malcolm X, but she also spoke about her role as a wife and mother. She then accepted a position as an associate professor of health sciences at New York's Medgar Evers College. The student body at Medgar Evers was 90 percent black and predominantly working-class, with an average age of 26. Black women made up most of the faculty, and 75 percent of the students were female, two-thirds of them mothers. These were all qualities that made Medgar Evers College attractive to Shabazz.
By 1980, Shabazz was overseeing the health sciences department, and the college president decided she could be more effective in a purely administrative position than she was in the classroom. She was promoted to Director of Institutional Advancement. In her new position, she became a booster and fund-raiser for the college. A year later, she was given tenure. In 1984, Shabazz was given a new title, Director of Institutional Advancement and Public Affairs; she held that position at the college until her death. On June 1, 1997, young grandson Malcolm set a fire in Shabazz's apartment. Shabazz suffered burns over 80 percent of her body, and remained in intensive care for three weeks, at Jacobi Medical Center in the Bronx, New York. She underwent five skin-replacement operations as doctors struggled to replace damaged skin and save her life. Shabazz died of her injuries on June 23, 1997.
Scroll down to see next article