"Proof of Consciousness" (P.O.C) the Host of REVIVE!!! 3/01/2017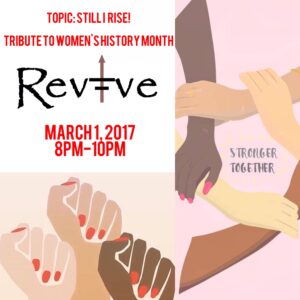 TOPIC: "Still I Rise"
Tune into tonight's episode of REVIVE entitle Still I Rise! We'll be focusing on Women's History Month and celebrating women and their contributions to society, their success and some obstacles women still have to face! Be a part of the conversation!
Guest: 
Sarah Khan, a community activist, an educator, and founder of United for Equality. She empowers individuals in her area to be more politically active, have conversations about race, and facilitates training on how to become better allies.  After earning her Master's in Education, she was awarded a Fulbright Fellowship to study in Turkey for a year. Currently, Sarah serves as the Director of English Curriculum at Paper Airplanes, a non-profit which helps displaced Syrians learn English by pairing them up with American and British volunteer tutors & Katharine "Kate" Bullard, a historian, former professor, and organizer based in Stroudsburg, P.A. where she helps develop grassroots activism. For the past twenty years, Kate has worked in higher education and the labor movement. As a graduate student I was at the forefront of the labor union's fight and as a professor, I taught classes in labor history, gender studies, race and colonialism .  She's the author of "Civilizing the Child: Discourses of Race, Nation and Child Welfare in America."
YOU CAN CATCH REVIVE EVERY SUNDAY 11AM-1PM & EVERY WEDNESDAY 8PM-10PM!!!  
WE NEED YOU ALL TO BE APART OF THE CONVERSATION!!!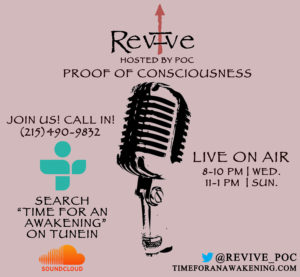 Podcast: Play in new window | Download (Duration: 2:04:24 — 57.2MB) | Embed
Scroll down to see next article