"Proof of Consciousness" (P.O.C) the Host of REVIVE!!! 3/08/2017
Proof of Consciousness" (P.O.C) the Host of REVIVE!!! 3/08/2017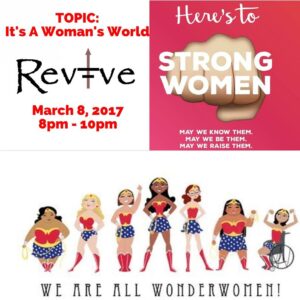 Topic: Since March is Women's History Month, today is  March 8th the REVIVE's show topic is entitled "It's a WOman's World" we will highlight several women accomplishing their goals, breaking down barriers, and kicking down doors that seem to be impossible! We're going to focus current events that focus on phenomenal women, the importance of representation, and the influence of media on people's perception of women. I am asking all you guys listening to be apart of the conversation as we celebrate the contributions of women and how we can continue to move forward!
Guest:
Aja Waters:  Aja Waters is the Creator of Queens See Queens LLC; a Women's Empowerment organization that educates, celebrates and inspires women to not only recognize the queen within themselves and other women. She's passionate about education, entrepreneurship, and goal setting. Aja Waters is also a Self Development and Business Coach, Author, and Empowerment Speaker.
India Marie: India Marie Cross is a native of PG County, MD, although she spent most of her childhood in Philadelphia. She's a Cheyney University alum and has a with a degree in theater. She has held the titles of Miss Cheyney University and Student Government President.. India is also a specialist in the United States Army Reserves. India aspires to create films that articulate the stories of African American women that are often untold. India is currently writing and editing her first feature film entitled "January", the movie delves into the many different aspects of motherhood.
Hope Foy: Hope Foy a South West Philadelphia native, a graduate of Millersville University with a degree in Government and Political Affairs and a  minor in African American Studies. After graduating, she returned to Philly to give back. Currently, she is the Legislative Assistant to sen. Joanne McClinton serving the 191st District office which focuses on excellent constituent services. This is just the beginning for Hope as she has set the career goal to one day run for public office.
YOU CAN CATCH REVIVE EVERY SUNDAY 11AM-1PM & EVERY WEDNESDAY 8PM-10PM!!!  
WE NEED YOU ALL TO BE APART OF THE CONVERSATION!!!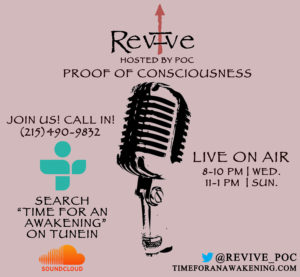 Podcast: Play in new window | Download (Duration: 2:15:21 — 62.2MB) | Embed
Scroll down to see next article