"Proof of Consciousness" (P.O.C) the Host of REVIVE!!! 5/07/2017
Today's REVIVE show topic is entitled:
Live with REVIVE: On Air Poetry Slam!!!
WE'RE CALLING ALL POETS TO PERFORM!
#REVIVE #Spit #Poetry #PoetrySlam #Lyricist #Poet #Artists #Spokenword #REVIVE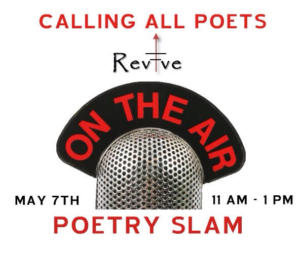 Each artist was given the maximum time frame of seven minutes to present their art. Every performer was given the opportunity to introduce themselves, present their poem or spoken word, and then give their contact information where people can find more of their work.
Please keep in mind that this is a safe space and judgment free zone, nothing is off limits. Please be respectful to each artist's gifts, talents, and abilities. This was fun yet a competitive on air poetry slam.
YOU CAN CATCH REVIVE EVERY SUNDAY 11 AM-1 PM & EVERY WEDNESDAY 8 PM-10 PM!!!  
It would be amazing to hear your perspective. So please call in we want to hear what you guys the listening audience out there have to say always. Once again this show is for the people. We here at REVIVE thrive off of communication. So call us at (215)490-9832 or follow me on Twitter and Facebook @REVIVE_POC !
 WE NEED YOU ALL TO BE APART OF THE CONVERSATION!!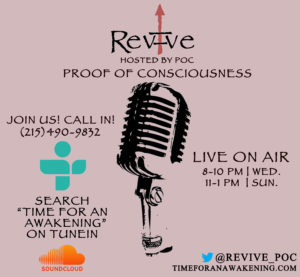 Podcast: Play in new window | Download (Duration: 2:03:34 — 56.8MB) | Embed
Scroll down to see next article