"Proof of Consciousness" (P.O.C.) the Host of REVIVE!!! 8/23/2017
Today's REVIVE show topic is entitled:
Brand Like A Boss
#SocialMedia #Marketing
#Business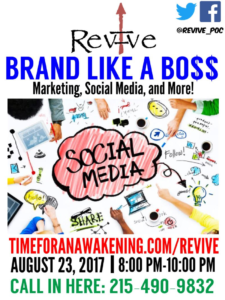 This episode on REVIVE is entitled "Brand like a Boss" we will discuss how to monetize your social media, different ways to market yourself and your business, and more!
GUEST:
Ashley Williams: Ashebrand is the result of when business and design combine forces to become one. Ashely and Brandon two siblings have been working hard to become a figure in their communities and attain their dreams in the jobs they work in. Ashely has been in the communications field for a long time, getting her degree in communications and her previous experience working in various radio stations, it only made sense for her to push towards a career in PR,Branding and Marketing . Ashely has a vision to turn Philadelphia into a huge market of entrepreneurs that she will lead. Likewise, Brandon has been dealing in graphic design since high school and has a wealth of experience working with small businesses. The two eventually formed a team together in order to help small businesses get off the ground as soon as possible with the help from a growing business who understands your troubles and decisions that must be made in order to reach the level of success you want to reach.
Nadiyah Young: Nadiyah Young is the founder and CEO of Forever Young Scholars (FYS). Forever Young Scholars is a youth development organization focusing on empowering, engaging, and providing our youth with meaningful mentorship, quality education, and resources needed to succeed.
D'Narius Lewis: D'Narius Lewis is a motivational speaker, speaking coach and author, real estate investor. D'Narius' straight-from-the-heart, high-energy, passionate message motivates and engages all audiences to step into their greatness, providing them with the motivation to take the next step toward living their dream. D'Narius Lewis rose from homelessness to social media influencer; from community activist to community leader. D'Narius is also the author of two successful books, "The Power of Your Subconscious Mind" and "The Criminals Of A Personality".
YOU CAN CATCH REVIVE EVERY SUNDAY 11 AM-1 PM & EVERY WEDNESDAY 8 PM-10 PM!!!  
It would be amazing to hear your perspective. So please call in we want to hear what you guys the listening audience out there have to say always. Once again this show is for the people. We here at REVIVE thrive off of communication. So call us at (215)490-9832  & follow on Twitter and Facebook @REVIVE_POC !
 WE NEED YOU ALL TO BE APART OF THE CONVERSATION!!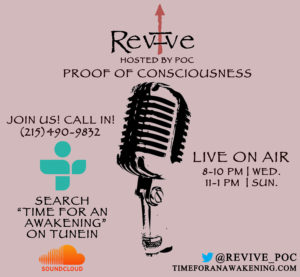 Podcast: Play in new window | Download (Duration: 2:05:17 — 57.6MB) | Embed
Scroll down to see next article