By David A Love 
September 17, 2016
Although this is unknown to many, there are up to 100,000 people of African descent in the nation of Turkey. A legacy of the Ottoman Empire and of the African slave trade, Afro-Turks, as they are called, have lost their language and have a renewed interest in discovering who they are and from whence they came.
As The Global Dispatches reported in 2010, while slavery existed in the Ottoman Empire from the 14th century until the 19th century, enslaved people came from the Balkans and the Caucasus until the late 1800s, with the abolition of "white" slavery in these regions after pressure from the European nations.
Before that time, the trading in Black people had been limited, but then, the trading of enslaved Africans to the Ottoman Empire grew, particularly from Kenya and Sudan. Between 1860 and 1890, around 10,000 enslaved Africans were sent into the Ottoman Empire each year, a total of about 250,000 people, with many freed at some point. Many enslaved people were sent to the cotton fields near Smyrna (now known as Izmir) on the coast of the Aegean Sea. But it wasn't until the early 20th century that the end of slavery came, as enslaved people were replaced by paid servants. And in 1924, the Turkish leader Mustafa Kemal Atatürk established laws of equal citizenship in the country's new constitution. Further, as the BBC reported, Afro-Turks are called "Arab," a term denoting someone who is dark enough to be Arab or African — in a country where Blackness is often negatively associated with inferiority. These days, in light of the refugee crisis, their identity has come to light in large cities, where Afro-Turks are often mistaken for Somali or Eritrean refugees, although these Black people have lived in Turkey for generations.
"It's a shame we have lost our African language, the language our great-grandparents spoke. Every minority in Turkey has its language – the Kurds, the Zaza, even the Laz. But we have only Turkish, and we don't know anything about our ancestors" an Afro-Turk man named Orhan told the BBC. "After years of suffering, you hide what makes you different," he said. "That is why our parents and parents' parents did not teach us their language. They did not want to make us different, they wanted us to only be Turkish."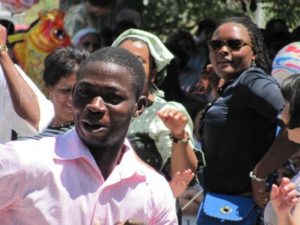 Meanwhile, due to years of intermarriage, there are likely many Turkish people who are descended from Black people and do not realize it, as The National reported. The national push for assimilation and a homogeneous society since the founding of the republic and the end of the Ottoman Empire has meant that Black identity was discouraged. However, Black people in Turkey are beginning to reclaim their heritage and their African past. For example, Mustafa Olpak, a grandson of enslaved Kenyans, published Slave Coast, a 2005 memoir chronicling his family's saga from the Horn of Africa to Crete to Turkey.
"The first generation experiences, the second denies and the third researches," Olpak's book begins. "We have been living in this region for at least 150 years and we don't have any other homeland," says Olpak, who also founded the Afro-Turk Association as a means to preserve their heritage and increase awareness of their condition. And Turkish authorities had banned the Feast of the Calf — known as Dana Bayrami in Turkish — a holiday that enslaved Black people celebrated in the Ottoman era, and which Afro-Turks resurrected only in 2007.
Like elsewhere, Black people in Turkey face discrimination. For example, African soccer players have faced racist chants from fans, including some who were called monkey and one who had a banana pointed in his face. In addition, Turkey has not been welcoming to African migrants. According to the International Business Times, there are at least 50,000 African migrants in Turkey, one-third from sub-Saharan Africa and who tend to be Christian, and the remaining from North Africa who tend to be Arab. Black Africans face racism, social exclusion and police violence.
President Obama's 2009 visit to Turkey and subsequent meetings with Turkish President Tayyip Erdogan have provided an opportunity for the Afro-Turk community to reclaim their narrative and bring their issues to the table. In a country that is once again beginning to acknowledge its diversity and the contributions of so-called minority communities such as the Afro-Turks, Black people in Turkey are experiencing a cultural reawakening.
You Might also like
Throughout US history, African Americans have pushed the limits — and beyond — of what America claims to be. The questions posed by both intellectuals and everyday African Americans during the Reconstruction, New Deal, and Civil Rights eras have all left lasting effects on the country. So too with the US left: time and again, black radicals have pressed for an expanded scope of political and economic freedoms, for Americans at home and for people abroad.

Christopher Tinson's important new book, Radical Intellect: Liberator Magazine and Black Activism in the 1960s, spotlights one critical organ of the African-American left during the tumultuous Civil Rights and Black Power eras. At a time when intellectual currents were in flux, inchoate and colliding, Liberator simultaneously served as an important forum for debate and a reminder of the diversity of the African-American left. The magazine, Tinson writes, "stood at the crossroads of knowledge production and insurrection," providing activists and intellectuals a place where they could hash out their ideas and make appeals to others. Intellectually, it proved to be an important waypoint between the resurgent black nationalism seen in places like Harlem in the early 1960s and the burgeoning Black Power movement of the late 1960s.

Liberator magazine was founded in 1961 by several radical African Americans living in New York City. It operated at the nexus of a rising black nationalism, the nascent New Left, the remains of the Old Left, and the more militant elements of the Civil Rights Movement. The founders of the publication embodied this ideological and temporal mix. Pete Beveridge was a former member of the Communist Party, while Richard Gibson spent his early career reporting on the anticolonial struggle in Africa. (Editor in chief Dan Watts was the relative outlier, with a background as an architect.)

Two tenets anchored the magazine's politics: a Pan-Africanism "that appreciated some sense of the political and cultural unity of African descendants, while also fully embracing local exigencies of considerable difference"; and a skepticism "of liberalism and gradualist approaches to social change."

Founded to provide news and analysis about decolonization from a more radical perspective than mainstream publications, Liberator was an unabashed partisan of anticolonial struggles. The magazine deplored the depredations of colonial regimes and championed the movements seeking to overthrow them. Emerging as it did in the early 1960s, when elements of the US left were concerned the Cold War superpowers would pull newly independent Third World nations into their spheres of influence, the magazine became an important organ for those opposing oppression in the Global South.

At home, the magazine's brand of radicalism led it to look askance at more mainstream left figures. In their eyes, Martin Luther King Jr and other civil rights leaders were too cozy with liberal politicians, too limited in their tactics and demands. More laudable were figures like Malcolm X and radical organizations such as the Revolutionary Action Movement, or RAM.

The publication's analysis of the 1963 March on Washington reflected these ambiguities. While they agreed with the economic aims of the demonstration — remember, it was a march for "jobs and freedom" — many of Liberator's writers and editors expressed skepticism about the utility of "relying on such a dramatization to generate the full range of black political and economic desires."

The question of what African Americans could achieve in the US — not just through civil rights victories but through wholesale changes in the American system — kept the Liberator's pages alive with debate throughout the 1960s. New Left collided with Old Left, old-school Pan-Africanism came into play with the new black nationalism. The journal, Tinson writes, "demonstrate(d) the sheer amount of energy devoted to black radical futures, and yet it also reveals how deeply contested definitions and practices of radicalism were in this period."

One noted participant in these intellectual battles was Harold Cruse. In 1963 and 1964, Liberator published a series of essays by the University of Michigan scholar titled "Rebellion or Revolution?" Cruse argued that Africans Americans needed to fight for thoroughgoing cultural change, to "move the struggle from a civil rights-based rebellion to a full-fledged revolution." He explicitly linked the US civil rights struggle to Third World revolutions, where people waging battles for independence from European rule were fighting for control of not just political and economic but also cultural institutions.

Later that decade, in his 1967 magnum opus Crisis of the Negro Intellectual, Cruse would issue stinging rebukes of numerous black radicals and publications, including Liberator. But he was better off for having the magazine as a clearinghouse for his early, wide-ranging essays on black nationalism and Marxism.

Larry Neal also benefited from having Liberator as a playground for his ideas on black aesthetics, which would serve as key frameworks for the Black Arts Movement of the late 1960s and 1970s. Like Cruse and many others at Liberator, Neal argued that black people had to take ownership of the arts and culture within their community, and use them to benefit their fellow African Americans.

At the same time, he was critical of stalwarts on the black left like Bayard Rustin, who was close to labor liberals. In a 1965 Liberator essay, Neal invoked Malcolm X to push against Rustin, arguing that African Americans had to make their struggle part of a larger, international movement for human rights. Neal's case for a "black spiritual and intellectual awakening" was, again, a window into the debates among African Americans over the future of the black freedom struggle in America.

Tinson also shows how Liberator served as an intellectual home for radical African-American women. Liberator ran articles about figures like playwright Loraine Hansberry and activist Gloria Richardson, and published some of the earliest works of Toni Cade Bambara, future editor of the groundbreaking anthology The Black Woman. The magazine gave women a chance to hone their literary and debating skills before assuming leadership roles in the Black Power and feminist movements of the late 1960s and early 1970s.

Liberator operated during a golden age for African-American radical publications. Freedomways, cofounded by W. E. B. Du Bois, launched in 1961, the same year as Liberator. By the end of the decade, a revitalized Negro Digest — printed under the Johnson Publication Company banner (the same publisher of Ebony and Jet magazines) — would establish itself as a redoubt of black intellectual thought (and change its name to Black World to reflect its more radical stance on social issues). Black Scholar set up shop in 1969, and helped catalyze the first wave of black studies scholarship in the early 1970s.

But money was always a problem for publications like Liberator. In 1971, lacking a steady stream of income — and beset by personality clashes — the magazine closed its pages. Others on the black left would follow. Black World stopped printing in 1976. Freedomways made it through the decade, but closed in 1985. The Institute of the Black World, a black-run think tank that was another important institution for thinking through the black radical tradition was finished by the early 1980s.

Liberator's lifespan was relatively short, and its subscription base was relatively small. Yet it was read by radicals across the United States — and quite a few abroad — who wanted to make sense of the world they lived in. Its links to groups well outside its New York City base gave the publication greater influence than its editors could have initially imagined. Fusing intellectual life and activism, the magazine demonstrated anew the centrality of the black radical tradition to the larger left project in America.

Today, as the Black Lives Matter movement calls out the contradictions of American democracy and sparks debates about the direction of the country, Radical Intellect reminds us of the vital role that intellectuals and periodicals can play in that tradition.

READ MORE AT: https://jacobinmag.com/2017/12/radical-intellect-tinson-review-liberator-magazine

Segment of a very interesting 1994 interview by Tony Brown of Dr. Khalid Al-Mansour, author of numerous books on Black history and culture.

BECAUSE OF FEAR AND COMPLACENCY, DON'T EXPECT ANYMORE FROM THE BLACK MIS-LEADERSHIP CLASS THAN WHAT WE HAVE. IT WILL TAKE CONSCIOUS BLACK PEOPLE BOTH IN THE DIASPORA AND ON THE CONTINENT, TO FORGE BETTER RELATIONSHIP'S FOR THE SALVATION OF OUR PEOPLE! IT WILL HAPPEN, AND IS HAPPENING NOW. BECOME PART OF A CONSCIOUS BLACK ORGANIZATION TRYING TO MAKE A DIFFERENCE, BE PART OF A SOLUTION, NOT THE PROBLEM.  HERE ARE JUST A FEW.

https://www.letsbuyblack365.com/

http://www.iamoneofthemillion.com/

http://www.harvestinstitute.org/

Read the article and leave comments.

Trump's rise: African-American politicians must lead on Africa's affairs

Trump's disregard for Africa and its affairs is worrying but presents a unique opportunity for progressive black leaders to shape US foreign policy

The Black Caucus continued with some relevance into the new century. But its collective voice has diminished to near silence. (Reuters/Joe Skipper)

A Donald Trump presidency has grave implications for US relations with Africa. His meteoric political ascension ushers in an era of right-wing domestic extremism and international disregard.

Trump has exhibited an unabashed lack of interest in Africa. This is a continent where numerous countries play a key role in the US war on terrorism. Africa's geopolitical importance also extends from its numerous natural resources, which are essential to global manufacturing industries. Other areas of import include its growing population, China's broadening involvement, and rapid democratisation in many countries.

Trump's lack of substantive interest in African affairs is worrying. But his disregard presents a unique opportunity for progressive leadership to shape US foreign policy.

The political left should leverage Trump's foreign policy weaknesses to strengthen rather than weaken international partnerships. This is much the same as Democrats did during Ronald Reagan's presidency. The left should also expand rather than retract US support for Africa's democracies, democratic movements and its economic development.

African American elected officials, in particular, have an opportunity – if not an obligation – to reassert themselves on African affairs.

Visionary leadership in dark times

I was fortunate to come of age during the 1980s. It was a decade in which the Congressional Black Caucus exercised considerable influence on African affairs. In fact, it had greater influence than any African American organisation in history.

Reagan viewed issues of the global south through a Cold War lens. He was fixated on anticommunism. Such a narrow framework blurred the details of local and regional politics. But it provided opportunities for the Black Caucus to shape political narratives that advocated a radical departure from traditional US-Africa relations.

During the 1980s and 1990s, the Black Caucus's initiatives toward African countries were shaped by progressive, activist politicians. Their roots lay in the civil rights struggle, the Black Power Movement and organised labour.

Its leaders included such charismatic, activist legislators as Ronald Dellums and Maxine Waters of California, Mickey Leland of Texas and Pennsylvania's William Gray.

This high water mark of African American influence was a unique moment in US history. It holds many lessons for today's politics. To effectively mobilise African American congressional leadership, it is useful to understand the Black Caucus's strategic vision, nimbleness and political acumen during the 1980s. This was the decade of strength, despite the obstacles of the Reagan administration's fixation on communism.

History's lessons

Congressman Charles Diggs, a radical Democrat from Detroit, Michigan, was the founding chairman of the Black Caucus in 1971. He and his colleagues thrust African issues into congressional foreign policy debates. These included apartheid in South Africa, ongoing Portuguese colonialism, white-minority rule in Rhodesia and democracy and oil in Nigeria.

Diggs was a model activist legislator. He led official delegations to Nigeria, South Africa and Angola. He also created an NGO to raise awareness and funds in response to the growing famine in the Sahel.

Donald Trump has little interest in or knowledge about African affairs. Reuters

Under his leadership, the Black Caucus submitted legislation and resolutions to steer US policy toward a country-specific approach and away from anticommunism as the determinant for where the US engaged in Africa.

During the 1980s activist Black Caucus members demonstrated solidarity with leftist regimes in Africa, the Caribbean and Central America. They led the push for historic anti-apartheid legislation in 1986 and record-level famine relief in 1985. They pushed the US government to give greater market access to African goods and political and humanitarian support for southern Africa's Front Line States, the organisation of southern African countries opposed to apartheid.

The number of African Americans in Congress increased during this period. They asserted themselves as the most strident critics of Reagan's Africa policies. The Black Caucus countered his deleterious programmes with the triple threat of legislation, mass organising and protests. They also coordinated with organisations such as the Free South Africa Movement and, beginning in the late 1970s, TransAfrica. Black Caucus members helped launch both organisations.

These are mere snapshots of the array of issues that kept the Black Caucus at the centre of US political discourse through the 1990s.

The decline of the Black Caucus

The Black Caucus continued with some relevance into the new century. But its collective voice has diminished to near silence. Many factors contributed to its current weak and largely symbolic political position.

In 1995, Congress eliminated funding for all legislative service organisations, including the Caucus. This forced its members to raise money for their initiatives.

Another constraint was George W. Bush's War on Terror. This radical foreign policy crowded out possibilities for a progressive, humane foreign policy toward global south nations in the early 2000s.

During the Obama presidency, African American elected officials generally avoided presenting alternatives to the president's policies. They feared weakening his capacity to withstand attacks from the right. Without this tacit support, it would have been impossible to push his policies past an obstructionist Republican-controlled House and Senate.

The Trump mandate

The consequences for African economies will be dire if Trump privileges a terrorism lens and pulls away from trade agreements, as he has threatened.

His trade policies will imperil the African Growth and Opportunity Act, which President Bill Clinton signed in 2000. The result will be increased tariffs on US imports from Africa. The Black Caucus must make the importance of AGOA evident to the public and the new US president. It must work to protect this legislation.

It should also protect Obama's important Africa initiatives, particularly Power Africa, Feed the Future and the highly innovative Young African Leaders Initiative.

Barack Obama delivers remarks at a Congressional Black Caucus Foundation dinner in Washington. Reuters

The Black Caucus must chart the US economic path in Africa. Trump's protectionist policies will cause the economies of the leading US trading partners in Africa – South Africa, Nigeria and Angola – to tailspin. The Black Caucus should use press conferences, press releases, conferences and legislation to make clear the ways the US benefits from these African economic giants.

Ethiopia is also a country to watch. Although US-Ethiopian relations have recently strained around human rights and governance issues, Ethiopia has enjoyed a special status under Obama. This is largely through its cooperation in fighting terrorist groups in East Africa and its contracts with the Boeing Company. The Black Caucus must raise awareness of the US-Ethiopian partnership. But it must also demonstrate support for the ongoing movement for true democracy and political freedoms in Ethiopia.

In addition, the Black Caucus should outline specific ways the new administration might bolster the vibrant democracies of Ghana, Namibia, and Botswana. They must be promoted as examples for the entire continent.

Recently, its members have spoken out forcefully in support of the kidnapped Nigerian school girls. Their actions are laudable. But symbolic stances must be accompanied by policy and security recommendations for the US as it confronts Boko Haram in Nigeria and al-Shabaab in Kenya, Tanzania and Ethiopia.

During the Trump presidency, African American elected officials would do well to look at their own history of acting within Congress on behalf of African governments, movements and issues for strategies toward a progressive agenda on African affairs. It is imperative that the Black Caucus define the popular narrative for the US approach to African countries. They should weaken Trump's hand before he whittles Africa into a caricature of terrorism, poverty and migration across the Mediterranean. History is the Caucus's greatest weapon.

Benjamin Talton, Associate Professor of African History, Temple University

This article was originally published on The Conversation. Read the original article.