By David Love: 
August 16, 2016
Finally, the U.S. will have a memorial to
lynching
, the dreaded, horrific and quintessentially American institution rooted in racial violence and terrorism.  The Equal Justice Initiative, the Montgomery, Alabama-based legal rights organization, will unveil the project today.  As
The New York Times
reported, the memorial to the thousands of lynchings that took place in the U.S. will rest on six acres in the first capital of the Confederacy, on land that was once public housing.
The organization will also announce plans to open a museum called "From Enslavement to Mass Incarceration" in its 11,000-square-foot headquarters in April 2017.  Located in a former slave warehouse, the museum will chronicle the nation's racial history from the days of slavery to mass incarceration, and like the Holocaust Memorial Museum in Washington, DC, to grapple with our legacy of racism and understand the connection to the present.
"Our goal isn't to be divisive," Bryan Stevenson, the director of the Equal Justice Initiative, told the Times. "Our goal is just to get people to confront the truth of our past with some more courage."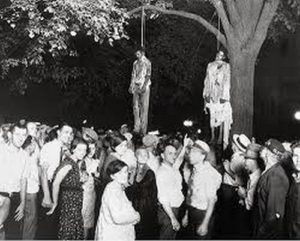 In 2013, Stevenson's group placed markers throughout Montgomery detailing the city's history as a slave market.  As The New Yorker reported, while the city had dozens of cast-iron markers referencing its Confederate history, there were none to indicate the presence of the slave trade.  And last year, the group released a report called "Lynching in America: Confronting the Legacy of Racial Terror."  The report documents 4,075 lynchings of Black people that took place in Alabama, Arkansas, Florida, Georgia, Kentucky, Louisiana, Mississippi, North Carolina, South Carolina, Tennessee, Texas and Virginia between 1877 and 1950.
The report discovered several hundred more lynchings than were previously known, and that many of the victims had not been accused of a crime.  Rather, "racial terror lynching" was designed to maintain the racial control of Jim Crow segregation by victimizing the entire Black community.  Moreover, they were celebratory affairs and horrific "public spectacles" in which the entire white community attended, and no one was held accountable.  Lynching was a major impetus leading to the forced migration of millions of African-Americans to the North, and yet there is little effort to address what took place.
According to the report, these lynchings were acts of terrorism "because the murders were carried out with impunity, sometimes in broad daylight, often 'on the courthouse lawn.' "  As opposed to so-called "frontier justice," these killings took place in communities with a viable criminal justice system regarded as "too good for African Americans," according to the report:
"Large crowds of white people, often numbering in the thousands and including elected officials and prominent citizens, gathered to witness pre-planned, heinous killings that featured prolonged torture, mutilation, dismemberment, and/or burning of the victim. White press justified and promoted these carnival like events, with vendors selling food, printers producing postcards featuring photographs of the lynching and corpse, and the victim's body parts collected as souvenirs. These killings were bold, public acts that implicated the entire community and sent a message that African Americans were sub-human, their subjugation was to be achieved through any means necessary, and whites who carried out lynchings would face no legal repercussions."
"In America, we're not free. We are burdened by a history of racial inequality and injustice. It compromises us. It constrains us," Stevenson told Co.Exist. "We have to create a new relationship with this history."
"It's a place that will be beautiful. It's a place," Stevenson added, "that will tell a hard but a necessary story."
The memorial will have a large, four-sided gallery of 801 suspended six-foot columns, according to The New York Times, each representing a county where a person or people were lynched, with an etching of their names.
This past February at a TED conference in Vancouver, memorial designer Michael Murphy gave a preview of the project.
"Countries like Germany and South Africa and Rwanda have found it necessary to build memorials to reflect on the atrocities of their past in order to heal their national psyche," Murphy said, as reported by Citylab. "We have yet to do this in the United States."
In Rwanda there is a healing process known as ubudehe, which means "community works for the community," according to Murphy. The plan for the memorial is to collect soil from each lynching site and place the soil in each column of the memorial, as if to finally put the victims to rest — an act of "spiritual healing" and "restorative justice," as he told Citylab.
At a time when the public is gaining awareness of the present-day killing of Black people through racial violence, it is time to also remember the names of those countless victims of lynching throughout America's past. We must do this if we want true justice.
You Might also like
By: 24/7 Wall St

The Civil Rights and Voting Rights Acts of 1965 made great strides toward racial equality. However, this legislation ― ending decades of government-sponsored racial oppression and intended to reverse the effects of hundreds of years of slavery ― by no means resolved racial inequality in the United States.

Racial differences in the United States are prevalent regardless of geography. While social and economic gaps are wider in some states than in others, the gaps exist across all areas, and we were unable to identify any states where black Americans are better off than white residents. For this reason, we expanded last year's list of the 10 worst states for black Americans to include all 50 states.

Across virtually all social and economic measures, there are wide racial disparities. Compared to white people in the United States, African Americans are considerably less likely to own their homes, twice as likely to be unemployed, nearly three times as likely to live in poverty, and five times more likely to go to prison.

SEGREGATION

According to Economic Policy Institute Research Associate Richard Rothstein, these disparities are entirely attributable to residential segregation, which in turn is attributable to deliberate, racially conscious, government policies implemented over the course of the 20th century. During this time, the Federal Housing Administration financed thousands of suburban development projects with the explicit requirement that no homes be sold to African Americans.

For Rothstein, the existence of racial segregation today is "a constitutional violation, and it requires a remedy."

Housing equity is the single largest source of middle class family wealth. The tens of thousands of homes bought by white families in the 50's and 60's in many cases have tripled in value. Because this wealth is frequently transmitted from one generation to another, Rothstein explained, economic mobility, especially for black Americans, is extremely limited. The removal of such policies was effectively an empty promise, he added, because very few African Americans could afford to live in the neighborhoods after the equity gains.

Today, 71.0% of white individuals and families own their homes, in stark contrast with the black homeownership rate of 41.2%. In some states, the gap is considerably larger. In North Dakota, fewer than one in 10 black householders own their homes, while more than two in every three white individuals and families own the homes in which they live. The gap between the white and black homeownership rates in Maine, at 72.6% and 13.3%, is even wider.

This troubling ownership disparity speaks to the similarly wide racial wealth gap. Black families in the United States have only 5% as much wealth as white families.

INCARCERATION

In her widely cited book The New Jim Crow (2010), Ohio State University Professor Michelle Alexander found that there were more African Americans in jails, prisons, or on probation or parole, than there were enslaved in 1850. While the percentage of black Americans imprisoned today is far lower than the share who were enslaved in 1850, African Americans are disproportionately represented in prisons compared to whites.

For every 100,000 black people nationwide, 2,306 are incarcerated, versus just 450 white prisoners per 100,000 white Americans. The black incarceration rate is highest in West Virginia, where 7,360 black residents are in prison for every 100,000 black West Virginians, 11 times the state's white incarceration rate of 662 per 100,000.

Rothstein attributes this problem also to residential segregation. "Police might profile African Americans in integrated neighborhoods, but you wouldn't have the occupying force that we have now." It is this large police presence, he explained, that has led to confrontational and often violent relationships between law enforcement and African American members of these communities, especially young people.

EDUCATION

One consequence of segregation is massive funding disparities within school districts, leading to similarly wide educational attainment gaps, which in turn contribute to racial inequality more generally.

Per pupil annual primary and secondary school spending in the United States is approximately $10,700. Schools with predominantly non-white student an estimated $733 less per student per year than schools with 90 percent or more white students, according to a report from the left-leaning think tank Center for American Progress. According to recently released data from the U.S. Department of Education's Office of Civil Rights from the 2013-2014 school year, 11% of black students ― versus 5% of white students ― attend schools where more than 20% of teachers are in their first year of teaching.

While more than one in every three white adults nationwide has at least a bachelor's degree, fewer than one in five black adults has a college degree.

10. Iowa
> Pct. residents black: 3.1% (13th lowest)
> Black homeownership rate: 30.4% (15th lowest)
> Black incarceration rate: 3,473 per 100,000 (8th highest)
> Black unemployment rate: 14.8% (the highest)

Compared with most states, there are relatively few black residents in Iowa. Compared to white state residents, African American Iowa residents are far more likely to live in poverty. The poverty rate among black state residents of 34.4% is higher than the national black poverty rate of 27.0%. It is also more than three times greater than the poverty rate among white residents of 10.5%, inline with the national white poverty rate of 10.8%. Similarly, the percentage of white laborers looking for work, at 3.2%, is lower than the national white unemployment rate of 4.6%. Meanwhile, 14.8% of black Iowan workers are unemployed, well above the national black unemployment rate of 9.6% ― and more than 4.5 greater than the white jobless rate.

Iowa's incarceration rate is even more divided along racial lines. For every 100,000 black Iowans, 3,473 are in prison, the eighth highest such rate of all states. For every 100,000 white residents, by contrast, only 324 are incarcerated, one of the lower such rates.

9. Nebraska
> Pct. residents black: 4.6% (19th lowest)
> Black homeownership rate: 31.4% (18th lowest)
> Black incarceration rate: 2,452 per 100,000 (23rd highest)
> Black unemployment rate: 5.3% (10th lowest)

Compared with black residents in other states, African Americans living in Nebraska are relatively well educated and seem to have more job opportunities. The percentage of black adults with at least a bachelor's degree and the percentage of black laborers out of a job, at 24.2% and 5.3%, respectively, are considerably better than the comparable rates across the nation.

While for many white Americans, a college degree and gainful employment all but guarantee good economic outcomes, like owning a home, for black Nebraska residents this does not appear to be the case. Just 31.4% of black householders own their homes, well below the national black homeownership rate of 41.2% and in stark contrast with the white Nebraska homeownership rate of 70.0%.

8. Colorado
> Pct. residents black: 3.8% (17th lowest)
> Black homeownership rate: 35.9% (24th lowest)
> Black incarceration rate: 3,651 per 100,000 (5th highest)
> Black unemployment rate: 5.9% (11th lowest)

Colorado residents are among the most well-off in the country. As in every state, however, the prosperity is largely distributed along racial lines. The unemployment rate among black workers in the state, at 5.9%, is lower than the national black unemployment rate of 9.6%. However, it is still well above the jobless rates for whites both in Colorado and nationally, at 3.8% and 4.6%, respectively. Black Colorado residents are also far more likely to go to prison compared with their white peers. For every 100,000 black Colorado residents, 3,651 are in prison, the fifth highest figure compared with black populations of other states and several times greater than Colorado's white incarceration rate of 509 per 100,000.

Economic disadvantages such as these can contribute to adverse health outcomes. For black mothers living in the state, the infant mortality rate is over 10 deaths per 1,000 live births ― close to double the rate among white Colorado mothers and mirroring the national difference.

7. Louisiana
> Pct. residents black: 32.1% (2nd highest)
> Black homeownership rate: 46.9% (7th highest)
> Black incarceration rate: 2,749 per 100,000 (18th highest)
> Black unemployment rate: 9.7% (22nd highest)

Black Louisiana residents make up 32.1% of the state's population, more than twice the national proportion and the second highest of all states after only Mississippi. Despite the relatively large black population, Louisiana is one of the worst states for African Americans.

As is the case nationwide, black Louisiana residents are far more likely to go to prison than their white peers. The incarceration rate among white state residents, at 675 per 100,000 white Louisianans, is the fourth highest among whites nationwide. It is still much lower than the incarceration rate among black residents of 2,749 per 100,000 African American residents, which is just the 18th highest compared to other states' black populations. Black families in Louisiana are among the most likely to own their home, with 46.9% of homes with black heads of household owned by their occupants, the second highest such rate in the nation. However, the rate is still in stark contrast with the white homeownership rate of 74.4%. Similarly, a typical black household earns just over 50% of the white median household income of $52,940, itself not particularly high compared to white households nationwide.

6. New Jersey
> Pct. residents black: 12.8% (16th highest)
> Black homeownership rate: 37.8% (22nd highest)
> Black incarceration rate: 1,992 per 100,000 (13th lowest)
> Black unemployment rate: 10.0% (tied – 20th highest)

The poverty rate among white residents in New Jersey of 6.4% is well below the national poverty rate of 15.5%. Black residents, however, are more than three times as likely to live in poverty as their white counterparts, with nearly 20% of New Jersey's African American residents living in poverty. Homeownership rates are usually divided along racial lines, and New Jersey is no exception. Three out of every four homes with white heads of households are owned by their occupants, compared to a black homeownership rate of just 37.8%.

As is the case nationwide, incarceration rates in New Jersey are substantially higher for the African American population than for white residents. Out of every 100,000 black state residents, nearly 1,000 are incarcerated, roughly five times the incarceration rate among white New Jersey residents.

5. Illinois
> Pct. residents black: 14.1% (14th highest)
> Black homeownership rate: 38.5% (21st highest)
> Black incarceration rate: 2,128 per 100,000 (17th lowest)
> Black unemployment rate: 12.2% (tied – 5th highest)

By many measures, whites do better in Illinois than they do nationally, while the opposite is true for black state residents. The annual income of a typical white household in Illinois exceeds the corresponding national figure by about $5,000. Conversely, the typical black household in Illinois earns about $2,000 less than the typical American black household, and barely half of what the typical white household makes. Poverty rates along racial lines echo the income discrepancy in Illinois. While 10.8% of whites nationwide live in poverty, only 9.3% of whites in Illinois do. In contrast, the national black poverty rates of 27.0% is significantly lower than the corresponding state rate of 30.6%.

Lower incomes in the state accompany lower homeownership rates. While nearly three quarters of whites in Illinois own the home they live in, the homeownership rate among black residents is just under 39%. The black homeownership rate nationally is slightly higher, at 41.2%.

4. Florida
> Pct. residents black: 15.5% (12th highest)
> Black homeownership rate: 43.7% (14th highest)
> Black incarceration rate: 2,555 per 100,000 (22nd highest)
> Black unemployment rate: 9.0% (25th lowest)

Driven in part by a relatively high incarceration rate, black Americans in Florida are the most likely to be disenfranchised. Nearly one in four black Florida residents have had their right to vote revoked in some way, the highest proportion in the country. In absolute terms, 520,521 black individuals living in Florida are disenfranchised, also the highest number in the nation.

The infant mortality rate within the black population in Florida, at 11.8 deaths per 1,000 live births, is slightly higher than the nationwide rate of 11.0 deaths per 1,000 births among black American mothers. At the same time, however, the infant mortality rate among the white population in Florida, at 5.0 deaths per 1,000 live births, is lower than the comparable national figure.

3. Virginia
> Pct. residents black: 18.9% (9th highest)
> Black homeownership rate: 46.2% (8th highest)
> Black incarceration rate: 2,418 per 100,000 (25th highest)
> Black unemployment rate: 7.9% (18th lowest)

Across the country, median annual income of black households is about $24,000 lower than the median income of white households. The income disparity in Virginian is even greater. Even though black households tend to earn more in Virginia than they do across the country, the typical black household in the state earns about $27,000 less than the typical white household.

Subject to some of the strictest disenfranchisement laws in the country, the black community in Virginia is among the most politically debilitated in the country. Nearly a quarter of a million blacks in the state ― roughly a fifth of the black population ― are ineligible to exercise their democratic right to vote. Only Florida and Kentucky have a higher share of disenfranchised black residents.

2. Minnesota
> Pct. residents black: 5.6% (22nd lowest)
> Black homeownership rate: 23.8% (8th lowest)
> Black incarceration rate: 2,321 per 100,000 (22nd lowest)
> Black unemployment rate: 14.1% (2nd highest)

The disproportionate incarceration of black Americans has been well-documented ― and Minnesota is one of the worst cases. Just 216 out of every 100,000 of the state's caucasian population is in prison, the second lowest incarceration rate among whites in the country. Meanwhile, 2,321 of every 100,000 black Minnesota residents are imprisoned, which is the 22nd lowest rate among blacks. Black families tend to earn less money than white families, and that disparity is pronounced in Minnesota. A typical black household in Minnesota brings in just $27,026 a year, less than half of the typical white household's income.

1. Wisconsin
> Pct. residents black: 6.2% (24th lowest)
> Black homeownership rate: 25.8% (10th lowest)
> Black incarceration rate: 4,042 per 100,000 (3rd highest)
> Black unemployment rate: 11.1% (9th highest)

Wisconsin is the worst state in the country for black Americans. The median annual income of black households in the state is just $26,053, much lower than the median for black families nationwide and equal to just 46.5% the median income of white Wisconsin households of $56,083. Similarly, while 29.9% of white adults in Wisconsin have at least a bachelor's degree, 12.8% of black adults in the state have completed college. This is also much lower than the bachelor degree attainment rate among black adults nationwide of 19.7%. The unemployment gap between black and white state residents is also troubling. With a white jobless rate of 4.1%, the state's job market is relatively strong for the white population. For black Wisconsin residents, however, the unemployment rate is 11.1% ― higher than the national unemployment rate for all black Americans.

By: Lucius Gantt

African Americans can't wait to get to the polls to cast their ballots in the 2016 United States elections.

One Presidential candidate is "Heckle" and the other one is "Jeckle". One candidate is Tweedlee Dee" and The other one is "Tweedlee Dum".

It doesn't matter who is running for the nation's highest office, most Black voters will do as they are told. They will be given a list, or slate, and instructed to vote for candidates that political exploiters want them to vote for!

Call me a hater if you want to but if you hate the truth I don't give a damn!

First of all, you have a Constitutional right to vote for whomever you want to and, yes, you should exercise that right but I pray that you will vote smart.

I pray that you will put your voter support behind candidates that support you., stand up for you, speak out for you, be accessible to you, listen to you, be responsive to you and care about you!

And, don't give me any crap about voting for the "Black" candidates!

Most Black politicians today are completely worthless and of no use to Black people.

You tell me, who are the candidates that look like you that will fight for the governmental policies and programs that you want? When Congress persons, legislators, commissioners and councilmen vote to appropriate, or divide up, tax dollars to special interest groups, corporate cronies, favored ethnic groups, desired sex and gender groups, who are the Black elect officials that will say "there are more Black people that are suffering, and more Black communities struggling than anybody else why does government give Black people, Black businesses and Black schools and other Black institutions the least government money"?

know you don't like for me to write like this but it is true!

You think you are going to the polls to vote strong Black men and women but, in many cases, you stepping into the voting booth to cast ballots for dummies and puppets!

You're not voting for the best representation that we can get, you are voting for Negroes who are willing to be controlled by the Democratic or Republican Parties!

The Democratic Party, for instance, is Willie Tyler and you are voting for Lester. The Republican Party is Buffalo Bob and you're voting for Howdy Doody!

You think The Gantt Report is crazy? Prove it!

Who is running for office in 2016 that will represent you today like Black people were represented in the past by Adam Clayton Powell, or Maynard Jackson, or Shirley Chisholm or Harold Washington  or even Florida's Carrie Meeks or Betty Holzendorf?

I knew Meeks and Holzendorf and the candidates of today are not them.

I've written it a thousand times but if you forgot it, let me repeat it. If Black political candidates believe that Black business are inferior, Black people are unimportant, Black issues are OK to ignore during the political campaign, they will feel the same way after you elect them!

A Black guy running for a seat in the Florida Legislature called me and asked me to give him some money for his campaign. I asked him to name the Black vendors, political professionals and Black owned media outlets he would spend money with and he told me ALL Black people working on his campaign would be volunteers so he could save his money for white media, white consultants and white vendors.

I hung up the phone on his pitiful ass!

Any Black voter or Black citizen that would give their support to any candidate, Black or white, that thinks all Blacks are worthless is not only a political fool they are a traitor to their race!

Black people have to control the politics in Black communities, Black districts and in Black precincts.

When political parties control Black candidates and tell them what to do, what to say, what to vote for and who they should hire, the Black voters and the Black people will continue to be exploited and oppressed.

If you are interested in politics, start grooming our young people. Teach Black youth how to campaign and generate votes. Teach Black boys and girls how to be strong, proud and politically intelligent Black men and women.

The only Black political clown I'll support is "Homie the Clown" because if Homie ran for office, Homie wouldn't play that "I want to be controlled" stuff!

NEW MILLENNIAL RADIO PODCAST COMING TO "TIME FOR AN AWAKENING" RADIO!!!