Podcast: Play in new window | Download (Duration: 2:01:42 — 55.9MB) | Embed
Subscribe: Android | Email | Spotify | Blubrry | RSS
Today's REVIVE show topic is entitled:
"The Sunday edition"
#CurrentEvents
#Politics
#TrendingTopics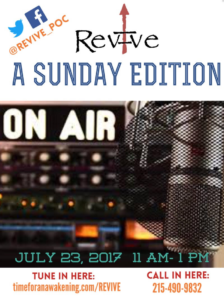 I need you all to be apart of the conversation!
#Revive
#POC
It would be amazing to hear your perspective. So please call in we want to hear what you guys out there have to say always. Once again this show is for the people. We here at REVIVE thrive off of communication. So call us at (215)490-9832. This episode of REVIVE will be an open forum so all perspectives can be heard through great conversation.
This episode on REVIVE is entitled "The Sunday edition"  We will be discussing current events, politics, and more! You don't want to miss this unforgettable episode!
GUEST:
Keith Taylor, Jr. : Keith Taylor, Jr. is a graduate of Jacksonville University where he received his masters degree in Business Administration and undergraduate degree in Political Science and Aviation Operations. During his time as an undergrad student he was elected Vice-President and President of Student Government.  He also was appointed President and got re elected as President of the Black Student Union. In the spring of 2016, Keith was elected treasurer of the Jacksonville Young Democrats.  Recently Keith co-founded a blog that focuses on politics.
YOU CAN CATCH REVIVE EVERY SUNDAY 11 AM-1 PM & EVERY WEDNESDAY 8 PM-10 PM!!!  
It would be amazing to hear your perspective. So please call in we want to hear what you guys the listening audience out there have to say always. Once again this show is for the people. We here at REVIVE thrive off of communication. So call us at (215)490-9832  & follow on Twitter and Facebook @REVIVE_POC !
 WE NEED YOU ALL TO BE APART OF THE CONVERSATION!!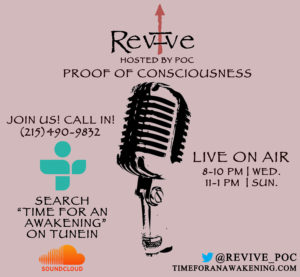 You Might also like
The post-hurricane devastation facing Puerto Rico and the U.S. Virgin Islands, and the lack of attention being paid by the federal government to necessary relief efforts. The lack of media attention to the death and destruction facing these U.S. citizens — who are not white and many of whom are of African descent — speaks to their second-class citizenship rooted in white supremacy and systemic racial discrimination.

With nearly half of Americans not realizing Puerto Ricans are U.S. citizens — and even Donald Trump apparently not realizing the people of America's island territories are citizens, or that he is the president of the U.S. Virgin Islands — these Black and Brown territories are American colonies and possessions of conquest in every manner.

The reason why the island territories — not only the Caribbean islands, but also Pacific islands such as Guam and the Northern Mariana Islands — are subjected to separate and unequal treatment, and are not states, is because of the Insular Cases, a series of racist Supreme Court decisions, of which the first were written by the same court that gave us the endorsement of racial segregation in Plessy v. Ferguson. These cases established the racist framework governing nonwhite territories of the United States. The island territories, inhabited by so-called alien races, were designed to give the United States control over the seas but second-class citizenship to their inhabitants. These cases are why these Black and Brown territories — as opposed to former white-controlled territories turned states — are subjected to the control of Congress, and no territory has become a state since Alaska and Hawaii in 1959.

The

Spanish-American War

led to the acquisition of Puerto Rico, the Philippine Islands and Guam by the United States, at a time of substantial territorial expansion and imperialist aspirations, with the concept of

"manifest destiny"

and the subjugation of inferior races "for their own good." These native populations were nonwhite, with different customs and languages from the dominant Anglo-Saxon culture, and the lands were noncontiguous to mainland America. In that regard, these territories were unlike the other territories that existed at the time, including Alaska, Arizona, New Mexico and Oklahoma, as was written in Slate.

At the time, Alaska and Hawaii had already been established as sovereign territories incorporated into the United States, with full constitutional safeguards and a pathway to statehood. The American court system rationalized that Alaska was in a different classification from Puerto Rico because it was on the North American continent. Hawaii, which the U.S. annexed in 1898, was a distant island populated by nonwhite people like Puerto Rico, yet Congress quickly granted full citizenship to its residents in 1900. Further, the United States was changing its definition of a territory, as Slate noted, opting for a European model of expansion to rescue the savages — a white supremacist message which presidents such as McKinley and Theodore Roosevelt endorsed. Further, President William Howard Taft — later Supreme Court Chief Justice — had a personal bias against Puerto Rican people which proved decisive in the fate of the territory. Taft believed they were unable to understand institutions of "Anglo-Saxon origin" such as the jury system, and he supported citizenship only if the territory was not granted statehood. The American attitude towards these nonwhite possessions reflected both the racism of the day, but also a desire to economically exploit these islands and establish military bases on them.

In one of the Insular Cases,

DeLima v. Bidwell,

the high court found that Puerto Rico was not a foreign country within the context of tariff laws. In

Downes v. Bidwell, the court ruled 

that Puerto Rico was an

unincorporated territory

under the control of Congress, but without the full protection of the U.S. Constitution. "If those possessions are inhabited by alien races, differing from us in religion, customs, laws, methods of taxation, and modes of thought, the administration of government and justice according to Anglo-Saxon principles may for a time be impossible, and the question at once arises whether large concessions ought not to be made for a time, that ultimately our own theories may be carried out and the blessings of a free government under the Constitution extended to them. We decline to hold that there is anything in the Constitution to forbid such action," the court wrote in its opinion.

In Gonzales v. Williams, the Supreme Court said that a woman from Puerto Rico who moved to New York was not an "alien immigrant," but rather a "noncitizen national." In 1917, Congress granted citizenship to people in Puerto Rico.

Formerly the Danish West Indies, the U.S. Virgin Islands became a United States territory in 1917, when the islands were transferred from Denmark for $25 million. Residents of the islands were granted full citizenship rights in 1932 through an act of Congress. Before that time, U.S. courts regarded the people of the U.S. Virgin Islands not as citizens but as "nationals," which in U.S. colonial policy referred to "inhabitants of colonies to whom the rights of U.S. citizenship were not conferred."

Although the inhabitants of the U.S. Virgin Islands and Puerto Rico received U.S. citizenship, the racist policies which undergirded America's treatment of its colonial territories have persisted. This is why people from these islands, who are truly American, often are not regarded as such, particularly after a natural disaster.

Meanwhile, the PR crisis has the potential to change Southern politics, particularly in Florida, potentially giving Democrats an advantage. The states with the greatest influx of Puerto Ricans between 2007 and 2009 were, from highest to lowest, Florida, Pennsylvania, Texas, Massachusetts, Connecticut, Ohio, Georgia, North Carolina, Virginia and Maryland.

More than 1 million people of Puerto Rican descent live in Florida, doubling their number since 2001 as a result of a weak economy back home, and as many as 100,000 more are expected to relocate to the state as victims of Hurricane Maria. Leaning heavily Democratic and voting in large numbers, Puerto Rican voters in the mainland voted for Hillary Clinton by a 3-to-1 margin. The Puerto Rican diaspora in Florida and elsewhere, angered by Trump's inaction in addressing the needs of the storm-ravaged island, and displaying a perceived insensitivity to their plight when he threw paper towels to a crowd during his visit, could galvanize and make a difference in the 2018 and 2020 elections. Although treated not unlike second-class citizens back home, where they cannot vote in national elections, Puerto Ricans on the mainland can register to vote anywhere and participate in races for the Senate, Congress and President, in what may prove the ultimate revenge.

This revenge is against Republicans and Trump — who ignores their plight post-Hurricane Maria and exhibits the racial bias of white U.S. leaders and policymakers a century ago. But this opportunity for payback by Puerto Rican voters also reflects an ability to impact politics on the mainland, after years of political exclusion and marginalization back home, and a colonial limbo status denying them statehood on the one hand, and independence and self-determination on the other.

WALTER RODNEY 1942 – June 13, 1980

Was a Pan-Africanist, Historian, Political Activist and Preeminent Scholar, who was assassinated in Guyana in 1980.

Walter Rodney was born in Georgetown, Guyana on March 23, 1942. His was a working class family-his father was a tailor and his mother a seamstress. After attending primary school, he won an open exhibition scholarship to attend Queens College as one of the early working-class beneficiaries of concessions made in the filed of education by the ruling class in Guyana to the new nationalism that gripped the country in the early 1950s.

While at Queens College young Rodney excelled academically, as well as in the fields of athletics and debating. In 1960, he won an open scholarship to further his studies at the University of the West Indies in Jamaica. He graduated with a first-class honors degree in history in 1963 and. he won an open scholarship to the School of Oriental and African Studies in London. In 1966, at the age of 24 he was awarded a Ph.D. with honors in African History.

His doctoral research on slavery on the Upper Guinea Coast was the result of long meticulous work on the records of Portuguese merchants both in England and in Portugal. In the process he learned Portuguese and Spanish which along with the French he had learned at Queens College made him somewhat of a linguist.

In 1970, his Ph.D dissertation was published by Oxford University Press under the title, A History of the Upper Guinea Coast, 1545-1800. This work was to set a trend for Rodney in both challenging the assumptions of western historians about African history and setting new standards for looking at the history of oppressed peoples. According to Horace Campbell "This work was path-breaking in the way in which it analyzed the impact of slavery on the communities and the interrelationship between societies of the region and on the ecology of the region."

Walter took up his first teaching appointment in Tanzania before returning to his alma mater, the University of the West Indies, in 1968. This was a period of great political activity in the Caribbean as the countries begun their post colonial journey. But it was the Black Power Movement that caught Walter's imagination.

Some new voices had begun to question the direction of the post-independence governments, in particular their attitude to the plight of the downpressed. The issue of empowerment for the black and brown poor of the region was being debated among the progressive intellectuals. Rodney, who from very early on had rejected the authoritarian role of the middle class political elite in the Caribbean, was central to this debate. He, however, did not confine his activities to the university campus. He took his message of Black Liberation to the gullies of Jamaica. In particular he shared his knowledge of African history with one of the most rejected section of the Jamaican society-the Rastafarians.

Walter had shown an interest in political activism ever since he was a student in Jamaica and England. Horace Campbell reports that while at UWI Walter "was active in student politics and campaigned extensively in 1961 in the Jamaica Referendum on the West Indian Federation." While studying in London, Walter participated in discussion circles, spoke at the famous Hyde Park and, participated in a symposium on Guyana in 1965. It was during this period that Walter came into contact with the legendary CLR James and was one of his most devoted students.

By the summer of 1968 Rodney's "groundings with the working poor of Jamaica had begun to attract the attention of the government. So, when he attended a Black Writers' Conference in Montreal, Canada, in October 1968, the Hugh Shearer-led Jamaican Labor Party Government banned him from re-entering the country. This action sparked widespread riots and revolts in Kingston in which several people were killed and injured by the police and security forces, and millions of dollars worth of property destroyed.. Rodney's encounters with the Rastafarians were published in a pamphlet entitled "Grounding with My Brothers," that became a bible for the Caribbean Black Power Movement.

Having been expelled from Jamaica, Walter returned to Tanzania after a short stay in Cuba.. There he lectured from 1968 to 1974 and continued his groundings in Tanzania and other parts of Africa. This was the period of the African liberation struggles and Walter, who fervently believed that the intellectual should make his or her skills available for the struggles and emancipation of the people, became deeply involved.. It was from partly from these activities that his second major work, and his best known –How Europe Underdeveloped Africa – emerged. It was published by Bogle-L'Ouverture, in London, in conjunction with Tanzanian Publishing House in 1972.

This Tanzanian period was perhaps the most important in the formation of Rodney's ideas. According to Horace Campbell "Here he was at the forefront of establishing an intellectual tradition which still today makes Dar es Salaam one of the centers of discussion of African politics and history. Out of he dialogue, discussions and study groups he deepened the Marxist tradition with respect to African politics, class struggle, the race question, African history and the role of the exploited in social change. It was within the context of these discussions that the book, How Europe Underdeveloped Africa was written."

Campbell also reports that " In he same period, he wrote the critical articles on Tanzanian Ujamaa, imperialism, on underdevelopment, and the problems of state and class formation in Africa. Many of his articles which were written in Tanzania appeared in Maji Maji, the discussion journal of the TANU Youth League at the University. He worked in the Tanzanian archives on the question of forced labor, the policing of the countryside and the colonial economy. This work– " World War II and the Tanzanian Economy"– was later published as a monograph by Cornell University in 1976″.

Rodney also developed a reputation as a Pan-Africanist theoretician and spokes person. Campbell says that "In Tanzania he developed close political relationships with those who were struggling to change the external control of Africa He was very close to some of the leaders of liberation movements in Africa and also to political leaders of popular organizations of independent territories. Together with other Pan-Africanists he participated in discussing leading up to the Sixth Pan-African Congress, held in Tanzania, 1974. Before the Congress he wrote a piece: "Towards the Sixth Pan-African Congress: Aspects of the International Class Struggle in Africa, the Caribbean and America."

In 1974, Walter returned to Guyana to take up an appointment as Professor of History at the University of Guyana, but the government rescinded the appointment. But Rodney remained in Guyana, joined the newly formed political group, the Working People's Alliance. Between 1974 and his assassination in 1980, he emerged as the leading figure in the resistance movement against the increasingly authoritarian PNC government. He give public and private talks all over the country that served to engender a new political consciousness in the country. During this period he developed his ideas on the self emancipation of the working people, People's Power, and multiracial democracy.

On July 11, 1979, Walter, together with seven others, was arrested following the burning down of two government offices. He, along with Drs Rupert Roopnarine and Omawale, was later charged with arson. From that period up to the time of his murder, he was constantly persecuted and harassed and at least on one occasion, an attempt was made to kill him. Finally, on the evening of June 13, 1980, he was assassinated by a bomb in the middle of Georgetown..

Walter was married to Dr Patricia Rodney and the union bore three children- Shaka, Kanini and Asha.


Podcast: Play in new window | Download (Duration: 3:18:29 — 91.1MB) | Embed

Subscribe: Android | Email | Spotify | Blubrry | RSS

"Time for an Awakening" for Sunday 1/21/2017 at 7:00 PM (EST) 6:00 PM (CST) guests will be Universal African Peoples Organization Health Minister, Nathaniel Jordan, and Sadiki Kambon, Convener of the Nubian leadership Circle. Health Minister Jordan discussed topics of fad diets, and Cancer prevention among our people through what we consume. In this months of recognition of his birth, our next guest Sadiki Kambon talked about his organization's work dealing with facts centering around the conspiracy in the murder of Dr. Martin King, among other topics.