Podcast: Play in new window | Download (Duration: 2:00:06 — 55.2MB) | Embed
Subscribe: Android | Email | RSS
Today's REVIVE show topic is entitled:
"Winning Wednesday"
#REVIVE #Tabm0ney #SpecialGuest 
#CurrentEvents #TrendingTopics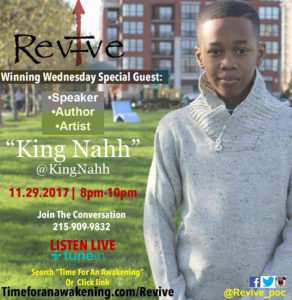 It would be amazing to hear your perspective. So please call in we want to hear what you guys out there have to say always. Once again this show is for the people. We here at REVIVE thrive off of communication. So call us at (215)490-9832. This episode of REVIVE will be an open forum so all perspectives can be heard through great conversation.
This episode on REVIVE is entitled "Winning Wednesday" on REVIVE RADIO! Call in to REVIVE at 215-490-9832, you never know what may happen!
GUEST:
Nyeeam Hudson "King Nahh":
International Motivational Speaker, Artist, Author
Nyeeam Hudson has captured global and national celebrity attention and audiences. "The International Motivational Speaker" is one of "12 kids who rocked the world in 2016" according to the Huffington Post and Forbes would like for you to "Meet the most motivational kid in America." Nyeem has been interviewed and has apperared on countless media platforms, including Good Morning America (ABC-NY).
Nyeeam Hudson has written his first book "We Are All Kings" – A Motivational Guide For Parents. He shares his journey to encourage young boys to believe in themselves as kings of greatness. There is no discrimination in his message – and shares the same message to young girls in his upcoming second book "We Are Queens Too!"  
Nyeeam Hudson is also Youth Advocate Director for the FP YouthOutcry Foundation (NJ) where he is a youth advocate and spokesperson.
"Expose your child to a broad spectrum of experiences. Let them explore and tap into their greatness – every moment counts!" – Nyeeam Hudson
YOU CAN CATCH REVIVE EVERY SUNDAY 11 AM-1 PM & EVERY WEDNESDAY 8 PM-10 PM!!!  
It would be amazing to hear your perspective. So please call in we want to hear what you guys the listening audience out there have to say always. Once again this show is for the people. We here at REVIVE thrive off of communication. So call us at (215)490-9832  & follow on Twitter, IG & Facebook @REVIVE_POC 
 WE NEED YOU ALL TO BE APART OF THE CONVERSATION!!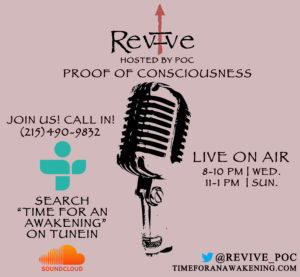 You Might also like
CHICAGO (AP)

Every five days, on average, a Chicago police officer fired a gun at someone.

In 435 shootings over a recent six-year span, officers killed 92 people and wounded 170 others.

While a few of those incidents captured widespread attention, they occurred with such brutal regularity — and with scant information provided by police — that most have escaped public scrutiny.

Now, after months of struggles with Chicago police to get information through the Freedom of Information Act, the Chicago Tribune has compiled an unprecedented database of details of every time police fired a weapon from 2010 through 2015.

Analysis of that data revealed startling patterns about the officers who fired and the people they shot at.

Among the findings:

•At least 2,623 bullets were fired by police in 435 shootings. In 235 of those incidents, officers struck at least one person; in another 200 shootings, officers missed entirely.

•About four out of every five people shot by police were African-American males.

•About half of the officers involved in shootings were African-American or Hispanic.

•The officers who fired weren't rookies but, on average, had almost a decade of experience.

•Of the 520 officers who fired their weapons, more than 60 of them did so in more than one incident.

•The number of shootings by police — hits and misses — declined over the six years, from more than 100 in 2011 to 44 in 2015.

The analysis comes at a time when police in Chicago and throughout the country face heightened scrutiny after several controversial police shootings, often of minorities, have been captured on video and gone viral.

The Tribune's study encompasses high-profile cases such as the McDonald scandal as well as scores of incidents that were not caught on video and received little or no attention. It begins on New Year's Day 2010 with a teen shot in the stomach while handcuffed to a security fence in the Park Manor neighborhood. It ends six years later, on the day after Christmas 2015, when an officer wounded an armed suspect on the Far South Side.

For years, examining the full scale of the problem in Chicago was impossible because the city refused to release most details about police-involved shootings. Before the release last year of the video of Laquan McDonald's killing brought pressure for transparency, the only information made public in the hours after a shooting came in comments from a police union spokesman at the scene and perhaps a short statement from the Police Department. As investigations dragged on for months or years, the details remained hidden.

The data on officer shootings were released to the Tribune only after a seven-month battle with the city over its failure to fulfill public records requests. The department finally produced the data in July after the Tribune threatened to sue. Reporters then spent weeks comparing the data with information that was gathered earlier this year from the city's police oversight agency as well as with other records, including autopsies and court records.

To be sure, policing the city's most dangerous streets can be harrowing. Nearly 6,000 illegal guns have been seized in the city so far this year — a staggering amount of firepower that far outpaces other big cities. The dangers were on display in graphic detail earlier this month when the department released dramatic dashboard-camera video of officers being shot at while pursuing a carjacking suspect in their squad cars on the South Side. One officer suffered a graze wound to his face.

"As a police officer, you don't wait for the shot to come in your direction," Dean Angelo Sr., president of the Chicago Fraternal Order of Police, told the Tribune recently about the database findings. "You might not get a chance to return fire."

But for many of those who live in the largely African-American communities where police most often open fire, the narrative of self-defense seems like a familiar script.

At a recent rally protesting police shootings, Charles Jenkins, a 61-year-old community activist who has spent his entire life on the city's West Side, said he believes race plays a role in how authorities investigate shootings by police.

"It's easier to believe, because they're black, that an officer was in fear of their life and get(s) off," he said

Those shot by Chicago police ranged in age from early teens to the elderly, the records show. The youngest, Dejuan Curry, was 14 when he was wounded in the leg in August 2015 after police said he refused to drop a weapon he held in his hand as he ran. A federal lawsuit is pending against Victor Razo, the officer who allegedly fired the shots. The Tribune's records show that Razo was involved in two other shootings between 2010 and 2015.

The eldest victim, Hazel Jones-Huff, 92, was wounded when off-duty Officer Courtney Hill opened fire during a quarrel between neighbors, killing Jones-Huff's 86-year-old husband. Jones-Huff was charged with battery for allegedly going after the officer with a broom, but a judge later acquitted her of all counts.

The records show the shootings in which a civilian was injured or killed were concentrated in a handful of high-crime police districts, all with largely African-American populations.

Leading the list was the Gresham District, which had 30 police shootings in which someone was injured or killed in the six-year span. Next were two other South Side districts — Englewood with 27 and Grand Crossing with 18. The Calumet and Harrison districts on the West Side each had 17, according to the records.

By contrast, the Jefferson Park and Near North districts, which have majority-white populations, each had four police shootings over the six years. The Town Hall District, which includes part of Lincoln Park, Wrigleyville, the rest of Lakeview, Lincoln Square and part of Uptown, had none, the data show.

The officers who shot

From the data, the Tribune was able to identify the race of 300 of the 324 officers who opened fire in shootings that resulted in injuries or death.

Although white officers make up a larger portion of the police force, they don't shoot citizens at a higher rate. Hispanic officers, meanwhile, make up only 19 percent of Chicago's police force but fired in 26 percent of officer-involved shootings.

A little more than half of the officers who fired shots at people were minorities — 84 Hispanics (28 percent) and 69 blacks (23 percent). White officers made up 45 percent of the total — 136 officers in all. The other officers were listed as Asian/Pacific Islander.

The officers also tended to be experienced, not rookies who suddenly found themselves in over their heads. The records show officers who have shot at citizens had an average of about nine years on the job.

Not surprisingly, 87 percent of the police officers who fired their guns in fatal or nonfatal shootings were on duty, the analysis found. Yet that meant 31 shootings involved off-duty officers who wounded or killed people.

Over the six-year period, 520 officers fired a gun at a citizen. The force generally has about 12,000 members. But the Tribune found that 64 of them were involved in at least two separate shootings.

Several of the repeat shooters have been featured in Tribune stories in recent years. At least two of them, Marco Proano and Gildardo Sierra, have been the targets of criminal investigations by the FBI, although no charges have been filed against either.

Proano, who remains on the force on paid desk duty, killed a teenager during a struggle outside a South Side dance party in 2011, then was captured two years later on dashboard camera video cocking his gun sideways and firing into a car full of teens as it drove away, wounding two. Sierra was profiled in the Tribune in 2011 after he was involved in three shootings, two of them fatal, during a six-month span. Sierra resigned from the department last year.

In the past, the Independent Police Review Authority has not tracked officers involved in multiple shootings if the shootings were deemed justified.

Guglielmi, the police spokesman, said the department is now developing an early intervention system to identify and mentor officers who may be at risk, including officers who were recently involved in a shooting or other high-stress situation. The system "will not be designed to be punitive" but will function more as a "risk management" plan to get to an officer's issues before they manifest on the street, he said.

Officers who have fired their weapons in multiple incidents also avoided public scrutiny in part because the police union contract bars the department from identifying officers after a shooting. In most cases, no information about the officers involved was ever made public unless a lawsuit was filed — and even then the city typically fought in court to keep records sealed.

Meanwhile, the Independent Police Review Authority's investigations of officer-involved shootings often included testimony and reports from other officers who backed up one another's accounts — a "code of silence" that has been criticized for years.

In all but a handful of shootings that IPRA investigated over the six-year span, the agency ruled the officers were justified in their use of deadly force.

The Tribune's analysis showed that Chicago police are the only witnesses listed in most of the shootings, with civilian witnesses identified in just 83 of the incidents.

Alexa Van Brunt, an attorney with Northwestern University's Roderick MacArthur Justice Center, said it's often challenging to prove misconduct or a cover-up when it comes to an officer's word against that of a civilian.

"We don't have video evidence often," Van Brunt said. "And if you have police officers lying on reports, that becomes the official record."

'He put me in that position'

No officer has fired at citizens more during the time period examined by the Tribune than Tracey Williams, an African-American tactical officer with nearly a decade on the job.

Over five years, Williams fired her gun five different times in various neighborhoods throughout the city — from North Lawndale to Fuller Park, the Tribune analysis shows.

Each time, she fired at a black male. The targets ranged in age from 17 to 45. One died, one survived with a gunshot to the leg and three others were not hit.

The only investigation to capture public attention involved the Dec. 4, 2010, killing of Ontario Billups in the South Side's Gresham neighborhood.

Billups, 30, was sitting in an idling minivan with two friends in the 8100 block of South Ashland Avenue when Williams and her partner pulled up in an unmarked Chevrolet Tahoe, according to IPRA records.

In a statement she later gave to investigators, Williams said the car looked suspicious so she shined a spotlight into the van and ordered the occupants to show their hands. She was running up to the passenger side of the vehicle with her gun drawn when she said she saw Billups with a "dark object" in his hand.

"He turns," Williams said. "As he's turning towards me quickly his hand is coming out quickly with this dark object. I immediately fire a shot."

Billups was shot once in the chest and died. The dark object turned out to be a bag of marijuana. Even though Billups was unarmed, Williams defended her use of force in her interview with IPRA investigators.

"His actions led to my actions," she said. "He put me in that position."

Meanwhile, Williams remained on the street. In one six-month period, from July 2012 to January 2013, the officer fired her gun in three separate incidents but missed. The next year, she wounded an armed 17-year-old boy in the leg. A review of that incident is pending, though most of the records have been sealed by IPRA and the Police Department because the boy was a minor.

In November, the city agreed to pay $500,000 to settle an excessive force lawsuit brought by Billups' family. That brought the total cost to $643,000 for taxpayers to settle four lawsuits related to Williams since 2010, court records show.

The Tribune's analysis found that most of the officers involved in multiple shootings over the six years were involved in two each.

Holding a socket wrench

The data compiled by the Tribune show how police calls turned into confrontations — ranging from seemingly benign calls such as trespass or drinking in the public way to extremely dangerous situations such as hostage standoffs or gang shootings.

Police released information about why officers were initially at the scene in 185 shootings over the six-year period. About a third of the incidents — 63 in total — began with officers responding to a report of shots fired or a person with a gun, according to the data. Fifteen shootings happened after police responded to a report of a robbery.

At least 40 shootings began with a traffic or street stop, either because of an alleged violation or after officers stopped and questioned a group congregated in public. In more than a third of the stops, officers gave chase on foot, pursuing suspects through residential backyards, alleys or over fences before opening fire, the data show.

In statements issued by police after the shootings, six of every 10 cited a suspect either pointing a gun or shooting at police as the reason officers opened fire. But of the 74 autopsy reports reviewed by the Tribune, at least 11 showed the shooting victims had been struck only in their back, buttocks or back of the head. The data show police also shot people who wielded other types of weapons, including knives — such as in the McDonald case — but also tire irons, screwdrivers, baseball bats and crowbars. In some cases, the gun police thought they saw turned out to be something else entirely — a wrench or a watch, a cellphone box or wallet.

Georgia Utendhal comforts one of her granddaughters, whose 16-year-old brother was fatally shot by a Chicago police officer in the 8700 block of South Morgan Street in Chicago on July 5, 2014.

Many folks try to make a dollar out of 15 cents, but African-Americans don't always take those nickels and dimes to a bank.

More than 18% of African-Americans don't have traditional bank accounts, compared with 7% of all Americans, according to the Federal Deposit Insurance Corp. But where banks don't fill the bill, communities have created their own solutions, including grass roots traditions and minority-owned banks and credit unions.

"People turn to the alternative forms of financing and credit because they don't have the same access [to mainstream services]," says Vicki Bogan, associate professor of economics at Cornell University. "And that's perfectly rational."

For much of American history, legislation restricted minority access to mainstream financial services. Bogan points to segregation and Jim Crow laws that barred blacks from regular banks and forced them to look for other options.

One informal alternative is called a "sou-sou." Also known as rotating savings and credit associations, sou-sous can help people save money without using a savings account.

Here's how they work: Every week or so, the members each contribute a set amount of cash, and one member takes home the pool. This rotates until every member has received a payout. Members won't see their savings grow, but in the end, the amount paid in equals the amount received. Prevalent in West African and Caribbean immigrant communities in the U.S., sou-sous are used virtually all over the world.

More formally, black-owned banks once flourished, Bogan says: At least 134 were founded in the U.S. between 1888 to 1934. And though there are fewer today, these banks and other nonstandard financing remain relevant.

Nikki Beasley is the executive director of Richmond Neighborhood Housing Services in Richmond, California, a nonprofit that connects low-income families to housing. She worked as a bank manager for 25 years and sees mistrust of banks and subtle cues from bankers as modern-day obstacles for people of color who want to enter the banking system.

"If a person doesn't look a certain way or isn't perceived to look [worthy of] service, the level of interaction and engagement tends to shift" on the banker's part, Beasley says. That lack of engagement can discourage people from opening accounts.

Theo

Rapper Killer Mike encouraged black Americans to open accounts in minority-owned banks, kicking off the #BankBlack movement.

Individual bank employees aren't the only hurdle. Since 2013, the Consumer Financial Protection Bureau has fined several banks for illegally denying fair access to credit or overcharging for loans because of customers' race.

Black-owned banks can ease these worries for customers. Not every community has one, but online and mobile banking have made it easier for potential customers to find alternatives.

Last year, rapper Killer Mike encouraged black Americans to open accounts in minority-owned banks, kicking off the #BankBlack movement. Celebrities including Usher and Solange Knowles have also announced their support for black banks.

But Beasley says that while the internet can help spread awareness of black-owned banks, some consumers might meet a fully virtual experience with skepticism. "They may need an education component" to set up and learn to navigate online tools, she says.

For Maggie Anderson, switching to black-owned Liberty Bank was a matter of supporting her community.

Anderson is the author of "Our Black Year: One Family's Quest to Buy Black in America's Racially Divided Economy," a book based on her experience shopping solely at black-owned businesses for 12 months. She was having an anniversary dinner with her husband 10 years ago when something clicked.

"The whole time we were there, we talked about all the crises in our community, the poverty, unemployment…and then the check came and we paid the bill. And that's when we realized that we are a part of the problem," Anderson says. "Our people needed that money. Our businesses needed that money. Our community is only as strong as our businesses and banks."

No matter how you choose to bank, it's important to do your research, Bogan says. "Make sure you know what type of products and services you're using, what are the costs, what are the benefits, what are the risks."

Take a look at a list of black-owned banks to see if there's one near you. If you're ready to change, learn how to switch banks.

By

Brad Evans

and

George Yancy

This is the second in a series of dialogues with philosophers on violence for The Stone. This conversation is with George Yancy, a professor of philosophy at Emory University and author, editor, co-editor of many books, including "Look, a White!" — Brad Evans

Brad Evans: In response to a series of troubling verbal attacks you recently received following your essay in The Stone in December, "Dear White America," the American Philosophical Association put out a strongly worded statement criticizing the bullying and harassment of academics in the public realm. But beyond this, shouldn't we address the broader human realities of such hateful speech, and in particular, how this sort of discursive violence directly impacts the body of the person attacked?

George Yancy: Your point about discursive violence is an important one. Immediately after the publication of "Dear White America," I began to receive vile and vitriolic white racist comments sent to my university email address, and verbal messages sent to my answering machine. I even received snail mail that was filled with hatred. Imagine the time put into actually sitting down and writing a letter filled with so much hate and then sending it snail mail, especially in our world of the Internet.

The alarming reality is that the response to "Dear White America" revealed just how much racism continues to exist in our so-called post-racial America. The comments were not about pointing out fallacies in my position, but were designed to violate, to leave me psychologically broken and physically distraught.

Words do things, especially words like "nigger," or being called an animal that should go back to Africa or being told that I should be "beheaded ISIS style." One white supremacist message sent to me ended with "Be Prepared." Another began with "Dear Nigger Professor."

The brutality and repetitiveness of this discursive violence has a way of inflicting injury. Given the history of the term "nigger," it strikes with the long, hate-filled context of violence out of which that term grew. This points to the non-spectacular expression of violence. The lynching of black people was designed to be a spectacle, to draw white mobs. In this case, the black body was publicly violated. It was a public and communal form of bloodlust. There are many other forms of violence that are far more subtle, non-spectacular, but yet painful and dehumanizing. So, when I was called a "nigger," I was subject to that. I felt violated, injured; a part of me felt broken.


Only now have I really begun to recognize how discourse designed to hurt can actually leave its mark. I recall after reading so many of these messages I began to feel sick, literally. So, words can debilitate, violate, injure; they can hit with the force of a stick or a stone and leave marks on the body. In this case, I began to feel the posture of my body folding inward, as it were, under the attacks. Franz Fanon talks about this as not being able to move lithely in the world.

The implication of those messages was that to be black and a philosopher was a contradiction.

B.E.: How does this relate to the intellectual history of racial persecution, oppression and subordination, especially the denial of the right of black people, and specifically black intellectuals, to speak with their own voice in a public setting?

G.Y.: I shared some of the malicious discourse used against me with some very prominent white public intellectuals. We began to exchange experiences. The exchange was helpful to me; it helped me to understand what is at stake when engaging in courageous speech. What was immediately clear, though, was the absence of specifically racist vitriol directed at these white public intellectuals, which in no way downplays their pain. Yet we must bring attention to the difference, to the perils of being a black intellectual. Not only was I being attacked for my courageous speech; I was being attacked as a black man. Yet I was also being attacked as a black philosopher.

There were some very nasty remarks that were designed to question my status as a philosopher because I'm black. The implication of those messages was that to be black and a philosopher was a contradiction, because "niggers" can't be philosophers. So, I agree; the discourse was far more pernicious. But to understand this is to come to terms with the history of white violence in this country used to control and silence black people.

To see my experience as a single episode or an anomaly is to deny the logic of the long history of white racist violence. bell hooks recalls that as a child she thought of whiteness as a site of terror. In a country in which white people would brutalize and kill a black person on a whim, that is far from irrational.

For centuries, black people lived in fear of white terror. That fear partly captures the contradiction of being black and an American. Black people were not the American "we," but the terrorized other. The symbols of white sheets and cross burnings must be recalled. Think here of black World War II veterans who returned home from the war and were severely beaten and lynched by whites, even as they wore their uniforms. They fought against Hitler only to return home, to the land of "democracy," to be attacked by what might be called white terrorists.

Or think here of the slave trade, the institution of American slavery, black codes, convict leasing, the lynching of black men and women and the flaying of black flesh, the castration of black men, being burned alive. Violence, within these contexts, is a specific racialized form of inculcating black people with fear and controlling their social mobility. There is nothing episodic about it; this form of white violence is historically grounded and systematic.

The coldhearted use of white violence was very effective. Not only were there actual beatings, there was the fear of possibly being beaten. So, the black imagination, though never defeated, was weakened. The lynching of a black person wasn't just a form of theater (where the root meaning suggests a kind of "beholding"), but a way of communicating fear and terror through mass displays of violence. For someone white, the spectacle was a sport, a kind of national pastime activity, but for a black person, one could always imagine that one was next, and thereby stand in fear of what could happen at any moment.

Cornel West talks about the "death shudder" as a kind of existential moment of realization that one is finite. I think that we are all open to experience that dreadful sense of our existence coming to an end. However, when black life is forever in a "state of exception," it is an additional weight. Black people not only experience the death shudder, but a specific kind of shudder that involves an emotional intensity that speaks to the disposability of black life.

For example, the other day, a white police officer walked into a store where I was buying some food and I remember feeling this powerful sense of wanting to flee, of feeling as if the rules and laws that are designed to govern our (white) society didn't apply to me. I could move "too quickly," placing my hand into my pocket to pay for my food, and my life would end just like that. The white police officer would explain how he felt "threatened" and had "reasonable" suspicion. And I would be dead.

Related

Read previous contributions to this series.

B.E.: These connections between the continuum of racial violence and the terrors of the everyday are crucial to understanding the normalization of humiliation and the outright denial of the most basic qualities that make people feel part of a society and "human," as such. This demands a more serious intellectual engagement with the "marking out" of the black body as incapable of philosophical thought and deliberation. Does this make a return to thinkers such as Aimé Césaire and Frantz Fanon all the more relevant in the contemporary period?

G.Y.: Yes. And racial violence takes many forms and raises larger issues. For example, Judith Butler's concern about questions of grievability is important. Racial violence is linked to forms of racial vulnerability, disposability and our tendency as a nation to grieve the deaths of certain racialized persons and not others. The disproportionate number of poor black people affected by Hurricane Katrina, or the sentencing disparities when it comes to locking up black people for nonviolent offenses, or the shooting in the back of Walter Scott by the white police officer Michael Slager are all examples of forms of racialized disposability. They speak to how black humanity is deemed of little or no human value.

The process of marking the black body as incapable of philosophical thought is longstanding. It is one of those major myths that grew out of Europe, even as Europe championed "humanism." The poet Aimé Césaire, through immanent critique, knew that European humanism was a farce. Of course, Jean-Paul Sartre knew this as well. And Fanon knew what it was like to embody reason and have it denied to him. In "Black Skin, White Masks," he argued that when he was present, reason was not, and when reason was present he was no longer. So, one might argue that reason and black embodiment, from this perspective, are mutually exclusive. And yet, at the end of that text, Fanon says, "My final prayer: O my body, make me always a man who questions!"

Fanon appeals to something that is beyond abstract political rights discourse. He appeals to his own body, something concrete and immediate. Fanon asks of his body not to allow him to be seduced by forms of being-in-the-world that normalize violence and dehumanization. Doubt can be linked to critique. In a society that hides beneath the seductions of normalization, critique is undesirable and deemed dangerous. Yet in our contemporary moment, the fulfillment of Fanon's prayer is desperately needed.

America needs a movement that transcends the civil rights movement.

These examples are manifestations of a racialized, selective misanthropy. This is why I have such a negative visceral reaction to Donald Trump's promises to build a wall along the Mexican border. That discourse is one of labeling certain bodies as "unwanted," "deviant," "sub-persons." And to say that Mexico is sending "rapists" to the United States is a form of deep insult, of marking certain bodies as violent and pathological. Trump is, sadly, able to play on the racist biases and fears in many white people. It is a divisive tactic that exploits both latent and manifest bigoted assumptions in many white Americans. It is not by accident that David Duke, a former Grand Wizard of the K.K.K., supports him.

B.E.: As you point out, a conceptualization of political rights must also include the right for the marginalized to critique power. Does philosophical inquiry have to do with the ways we might reconceptualize the meaning of rights, especially considering that the denial of persons' humanity often occurs within normative legal frameworks?

G.Y.: Absolutely. After all, slavery, which was a vicious, death-dealing and violent institution, was legal. I think that rights-based discourse is necessary, but there is this sense in which rights can be given and, by implication, taken away. Within this context, I think that America needs a movement that transcends the civil rights movement. Applicative justice might be necessary, but not sufficient. Imagine a scenario where justice is being applied across the board, and the rights of people are being upheld. In a country like ours, saturated by racism, that scenario might still involve blacks being hated, seen as "inferior," as sub-"persons." In such a world, white people can continue to insulate themselves from the "others."

We are desperately in need of a movement that shakes us at the very core of how we think about ourselves as individuals, masters of our own destiny. While this isn't philosophically fashionable, I want to know what it means to love with courage. What would it mean to make love an integral feature of moral reasoning, the kind of love that risks profound ways of being mutually vulnerable, of placing no limits on who we call our neighbors? This means radically changing how we currently relate to one another. I recall when we killed Osama bin Laden in 2011 that there were Americans who were cheering. As unpatriotic as some will say I'm being, we must keep in mind that bin Laden was someone's son, father and husband.

Sign up here to join a deep and provocative exploration of race with a diverse group of New York Times journalists.

This speaks to the limits of our moral imagination as a nation. Can you imagine President Obama saying at a press conference that he is sorry that we killed bin Laden, that we loved him as a human being despite his violence? Can you imagine what would happen if Israelis and Palestinians were to cease their "peace" talks and radically deploy a discourse of love? Imagine the many whites who read "Dear White America" saying to me: "We return the love to you that you've shared with us!" I think that we are an impoverished nation when it comes to loving our "enemies." God bless America is an empty politicized gesture if we are not also saying God bless our "enemies."

B.E.: There is an ethical aspect to "Dear White America" — particularly the honest reflections put forward regarding your own prejudices and fallibilities when it comes to relations of power. While a critique of violence demands attention to historical forces of domination and exploitation, it also asks how each of us shamefully compromise with power, often against our better judgments.

A critique of violence must include an understanding that one doesn't escape the many ways in which one perpetuates violence

GY: Yes. This raises the issue of complicity. As I discussed in the essay, there are ways in which I have been shaped to believe that looking at women with a dominating gaze or desiring women only for sexual pleasure is "normal." Yet it is this process of "normalization" that produces a kind of "walking dead" mentality where many of my social practices (sexual desire being one, fixed gender role expectations being another) support the oppression of women. The process of normalization is often so effective that there isn't much resistance coming from one's "better judgment," especially as one's better judgment has already been defined by the terms of normalization.

In this case, one's "better judgment" has already been compromised, has already become an extension of the power of normalization. Your use of the term shameful is important. Shame implies a powerful sense of disgrace. It is not limited to the assignment of blame, which is more like guilt. Shame suggests the sense of disrupting one's ethical "certainty," or business as usual. After all, one can be guilty without ever feeling shame.  So, violence, for me, has to be attended to at those levels where we are going about our business as if we are not doing violence to other individuals.

The fact that we don't hear cries of pain doesn't let us off the hook. Ethical discourse and practice must be imbued with an effort to remain honest, especially about one's own ethical shortcomings and the pain and suffering that we cause others.

A critique of violence must include an understanding that one doesn't escape the many ways in which one perpetuates violence — violence against those who we may never see face to face, violence against those who are closest to us, violence against the earth, and perhaps even violence against one's own sense of self-integrity.

Violence is all around us. Yet we prefer to remain asleep — the walking dead. For me, personally, the more I become aware of the magnitude of violence in our world, what many of us would rather deny or not see, the more I enter into that space of the "dark night of the soul," a place where dread and hopelessness reside. The objective, though, is to continue, to remain awake, to keep fighting for a better world even as one endures the dark night of the soul.