Podcast: Play in new window | Download (Duration: 2:11:50 — 60.6MB) | Embed
Subscribe: Android | Email | Spotify | Blubrry | RSS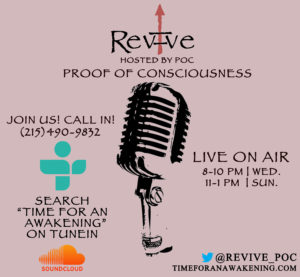 "Proof of Consciousness" (P.O.C) the Host of REVIVE!!! 2/19/2017
TOPIC: Entrepreneurship
Guest: Nataki Kambon spokes person for "Lets Buy Black 365". Nataki Kambon is a small business growth strategist and consultant. She works with entrepreneurs to grow businesses into profitable self sustaining enterprises through marketing, management, operations and accounting services & Maryam Foye has created places such as the HBC theatre and The Den for organizations that are interested in finding ways to team build, inspire creativity and promote innovative thinking. This is done by improv, music, drama and movements which are used to uplift and empower their team. She also offers youth services as well which gives youth a platform to critically think, write, and explore different creative outlets.
YOU CAN CATCH REVIVE EVERY SUNDAY 11AM-1PM & EVERY WEDNESDAY 8PM-10PM!!!  
WE NEED YOU ALL TO BE APART OF THE CONVERSATION!!!

You Might also like
Michael Coard 

In my Freedom's Journal columns on February 24 and March 3 here in The Philadelphia Tribune, I exposed the lies about President George Washington's supposed wooden teeth and Thomas Jefferson's supposed innocently romantic love affair with Sally Hemings.

Washington's teeth were actually yanked from the mouths of our enslaved ancestors and Jefferson actually raped Sally repeatedly while she was just a child.

In response to both columns, white racists went certifiably crazy (I mean crazier) and denied and yelled and screamed and hollered and insulted. They also trolled on social media. Unfortunately for them, they're gonna need a straight-jacket after reading this.

This week's topic is about the twelve United States presidents who enslaved Black men, women, boys, and girls. And before you crazy racists start talking nonsense about those so-called "great" patriots simply being "men of their times," you need to know that the anti-slavery movement amongst good white folks began in the 1730s and spread throughout the Thirteen Colonies as a result of the abolitionist activities during the First Great Awakening, which was early America's Christian revival movement. Furthermore, the anti-slavery gospel of the Second Great Awakening was all over the nation from around 1790 through the 1850s.

America is and always has been a Christian country, right? Therefore, if the Christian revivalists weren't men (and women) of that slaveholding time, why weren't those twelve presidents who led this Christian country?

Beyond the religious abolitionist movement, the secular abolitionist movement was in full effect in the 1830s, thanks to the likes of the great newspaper publisher William Lloyd Garrison. Presidents knew how to read, right?

By the way, John Adams, the second president (from 1797-1801) and his son John Quincy Adams, the sixth president (from 1825-1829), never enslaved anybody. And they certainly were men of their times. Maybe they knew slavery was, is, and forever will be evil and inhumane.

Here are the evil and inhumane 12 slaveholding presidents listed from bad to worse to worst:

12. Martin Van Buren, the eighth president, enslaved 1 but not during his presidency. By the way, that 1 escaped.

11. Ulysses S. Grant, the eighteenth president, enslaved 5 but not during his presidency. In office from 1869-1877, he was the last slaveholding president.

10. Andrew Johnson, the seventeenth president, enslaved 8 but not during his presidency. However, when he was Military Governor of Tennessee, he persuaded President Abraham Lincoln to remove that state from those subject to "Honest Abe's" Emancipation Proclamation.

9. William Henry Harrison, the ninth president, enslaved 11 but not during his presidency. However, as Governor of the Indiana Territory, he petitioned Congress to make slavery legal there. Fortunately, he was unsuccessful.

8. James K. Polk, the eleventh president, enslaved 25 and held many of them during his presidency. He also stole much of Mexico from the Mexicans during the 1846-1848 war in which those Brown people were robbed of California and almost all of today's Southwest.

7. John Tyler, the tenth president, enslaved 70 and held many of them during his presidency. He was a states' rights bigot and a jingoist flag-waver who robbed Mexico of Texas in 1845.

6. James Monroe, the fifth president, enslaved 75 and held many of them during his presidency. He hated Blacks so much that he wanted them sent back to Africa. That's why he supported the racist American Colonization Society, robbed West Africans of a large piece of coastal land in 1821, and created a colony that later became Liberia. The Liberian state of Monrovia is named after that racist thug.

5. James Madison, the fourth president, enslaved approximately 100-125 and did so during his presidency. He's the very same guy who proposed the Constitution's Three-Fifths Clause.

4. Zachary Taylor, the twelfth president, enslaved approximately 150 and held many of them during his presidency. During his run for president in 1849, he campaigned on and bragged about his wholesale slaughter of Brown people when he was a Major General in the Mexican-American War. And white folks in America elected him.

3. Andrew Jackson, the seventh president, enslaved 150-200 and held many of them during his presidency. By the way, Jackson, nicknamed "Indian Killer"- whom fake President Donald Trump describes as his all-time favorite- wasn't just a brutal slaveholder. He was also a genocidal monster who was responsible for the slaughter of approximately 30,000-50,000 Red men, women, and children. Moreover, he signed the horrific Indian Removal Act of 1830 that robbed the indigenous people of 25 million acres of fertile land and doomed them and their descendants to reservation ghettos.

2. Thomas Jefferson, the third president, enslaved 267 and held many of them during his presidency. For more info about this child rapist, read my March 3 column

1. George Washington, the first president, enslaved 316 and held many of them during his presidency. For more info about the man whose teeth were "yanked from the heads of his slaves," read my February 24 column.

READ MORE AT: http://www.phillytrib.com/commentary/coard-america-s-slaveholding-presidents/article_f1202a34-2c29-5c75-9c73-7c4e48dcf339.html

The black middle class is talking of values and civility as many Americans of colour continue to languish in poverty.

Sen Cory Booker pauses while speaking at the Democratic National Convention in Philadelphia, Pennsylvania, US on July 25, 2016

It's amazing how similar middle-class and well-positioned African Americans are to white elites in their perspectives on US politics. They continue to play in the sandbox of respectability politics and civility, as if only since the election of Donald Trump as president has racial and socioeconomic progress been in jeopardy.

Take Washington Post columnist Colbert I King's reaction to US Supreme Court Justice Anthony Kennedy's retirement last month. The "honor – or from, my point of view, blame" for strengthening the right-wing hold on the Supreme Court "goes to those citizens who did not vote for a presidential candidate in 2016," he wrote in a recent column. He added, "I thought the case [for Hillary Clinton] was strong. Sadly … Black voter turnout fell from 66.6 percent of eligible voters in 2012 to 59.6 percent four years later."

King's words reflect the thoughts of many middle-class and affluent African Americans who've despaired over Trump and the GOP's control of all three branches of government as a sign of the apocalypse. Like King, many have scorned black voters who decided to abstain from voting or not vote for Clinton because they didn't see her as having African Americans' interest in mind or working to combat poverty, as her campaign platform demonstrated.

The reality is that every president since Lyndon Johnson has forgotten about America's poor, and especially, poor Americans of colour. Most politicians rarely use the words "poor" and "poverty" in their speeches, unless they intend to criticise the poor for their lot in life.

Yet the black affluent class continues to emphasise racial progress and social mobility as if it's 1978, with Jimmy Carter as president and sitcom Diff'rent Strokes (starring black actors Gary Coleman and Todd Bridges) an NBC primetime hit.

Democratic Senator Cory Booker implied as much last month in his defence of Press Secretary Sarah Huckabee Sanders who, last month, was asked to leave a restaurant by its owner. "Not to lead with love and to do it in a way that is more reflective of the values we are trying to reject in our country is not acceptable to me," Booker said on MSNBC.

These words and "values" ring hollow to anyone who's experienced extreme hunger and homelessness, a "Jane Crow" removal of children, or a white person threatening to call the police on them for existing.

Emphasising harmony while knowing that millions of Americans of colour are living off the crumbs of alleged racial progress is the mentality of an affluent African American who's struck a Faustian bargain.

Another example of this contradiction would be Trump's predecessor. Barack Obama's presidency oversaw a rapid rise in the racial wealth gap and more than 2.5 million deportations of mostly brown undocumented people.

President Obama's lofty language often contained thorns of chastisement towards blacks living in poverty. During his Dallas speech in July 2016, Obama said to "protesters" of police brutality, "You know how dangerous some of the communities where these police officers serve are. And you pretend as if there's no context."

As crunk feminist Brittany Cooper put it in her book "Eloquent Rage", the absurdity of this is that most middle-class blacks are "only 1.5 generations" removed from black poverty.

A black middle class that cares more about civility and less about speaking out about structural racism and inequality is one that is difficult to understand. It makes them unwitting partners in white supremacy, patriarchy and socioeconomic inequality.

I've found that I've needed to reassess my own thinking about the contradictions between racial and class-based oppression and my own middle-class strivings. I turned 11 in December 1980, a month after the election of Ronald Reagan, the champion of the "welfare queen" and "strapping young buck" myths, which denigrated black and poor Americans.

I didn't know I was growing up in working poverty in suburban New York until I entered my middle school magnet programme in 1981. There, I found myself in a classroom with affluent white and middle-class black kids for the first time.

At age 13, I learned that poverty was like Dante's nine circles of hell after my mother lost her Mount Vernon Hospital job. Our family fell into welfare poverty during the double-dip recession in 1983. Between the ages of 18 and 29, I went through three periods of unemployment and a two and a half years of underemployment.

My delayed entry into the middle class was no accident. Since the days of President Richard Nixon, nearly every president, every Congress, and every Supreme Court has worked to weaken reproductive rights, affirmative action, criminal justice protections, and social welfare programmes. All these actions and more have stalled social mobility in the US, especially for Americans of colour living in poverty.

It didn't matter that I exercised middle-class pragmatism and voted for "the lesser of two evils" President Bill Clinton while living in Pittsburgh in 1992 and 1996. It didn't matter that I wrote "Jesse Jackson" on my New York State absentee ballot when I voted in 1988. That I and others managed to "make it" in this 50-year-old war against poor people is somewhere between a miracle and dumb luck.

I am not suggesting that African Americans like myself should forsake a more prosperous life, but beyond the practical considerations of paying off debt and having wealth to manage, blacks and other Americans of colour should ask if being middle class in thought and politics is really worth it. Especially if the endgame only leads to a larger class of Americans engaging in structural racism and class oppression through rhetorical flourishes and support of racist and anti-poor policies.

READ MORE AT: https://www.aljazeera.com/indepth/opinion/don-understand-black-affluent-class-180718064315291.html

AFRICANGLOBE – Haiti will officially become a member of the African Union at the next African Union (AU) Summit which will take place in Lilongue, Malawi this June. Although this decision is novel for a diaspora country, Haiti undeniably has some shared links with Africa.

Haiti Is The First 'Out Of Africa' Country To Join The African Union, But Is It Really?

Haiti is famous throughout the African Diaspora for a number of reasons other than the fact that it is a predominantly Black country. The first that calls out to most African states is its significant population of African descendants. In 1804 it became the first Black Republic, when a group of Africans defeated the French to earn the nation's freedom. An act which made the Island special to Africans and African countries all over the world. Haiti has made recognizable diplomatic efforts to the advent of free African States. It was the first Black Republic that carried high the flame of liberation and freedom for Black people. Haiti also greatly criticized the invasion of Ethiopia by Musolini's Italy, stood against the war in Algeria, held its support for the independence of Libya and impacted on many African countries.

In January 2010, when Haiti was hit with a devastating earth quake, Haiti was shown love and support by several African countries. Senegal offered Haitians free land and Haitian students a place at its university. African countries pledged more than $8 million USD of which Republic of Congo pledged $2.5 million to aid the devastated country. At the AU Summit in 2010, Chairperson Jean Ping asked Haitians to repatriate to Africa. "We have an attachment and link to that country. The first Black Republic…that carried high the flame of liberation and freedom for Black people and has paid a heavy price in so doing," said Jean Ping.

Also it is no news that Haitian meals are usually a fusion of Caribbean and African delicacies. It is not strange to find a bit of Okra (flowering plant in the mallow family used for soups and other dishes), Tard root and other African delicacies in their meals. Kompa, the country's national music style can be linked to African music with its reliance on the African drums beat.

What This Could Mean For Haiti

Haiti is a country that depends on foreign aid and has been identified as one of the poorest countries in the world but it seems that is about to change. Becoming a full member of the African Union will avail the country several other options that will help boost its economy. They will be privy to the debt cancellation scheme, and likely benefit from the China- AU investments as Haiti currently attracts very little direct investments. It will also facilitate free trade between Haiti and other members of the African Union.

The country has also been called out as one of the poorest countries in the Americas, with high rates of unemployment, dependence on foreign aid—the list goes on. The devastating earth quake that hit the country about six years ago leaving several dead and displaced, only aggravated the situation as this further crippled an already collapsing economy. However they have since been on a long road to recovery and their soon to be affirmed membership with the African Union is a step closer.