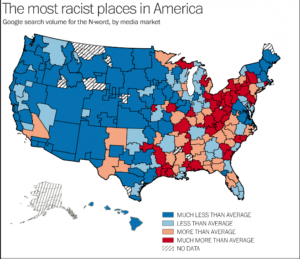 The research group took advantage of the tweets' geo-codes, which is data showing where they originated from in the U.S.  The team searched Twitter for racism-revealing terms and phrases that appeared in the context of tweets mentioning "Obama," "re-elected," or "won."
They then sorted the tweets according to the state they were sent from, and compared the racist tweets to the total number of geocoded tweets coming from that state during the same time period, Nov. 1 to  Nov. 7.
To normalize states across population levels, the team then used a location quotient-inspired measure or LQ score — an economic derivation used to analyze norms across geographical locations — to compare a state's racist tweets to the national average of racist tweets.
So, per the team's model, an LQ score of 1.0 indicates that the state's proportion of racist tweets to non-racist tweets is the same as the overall national proportion. A score above 1.0 indicates that the proportion of racist tweets to non-racist tweets is higher than the national proportion. The results are seen in the map above.
The LQ score was added to the number of Ku Klux Klan organizations known to operate in the state, according to a list compiled by the Southern Poverty Law Center, a watchdog organization that monitors hate groups. The states with the highest combined scores were considered the most racist states in the country. The process was not scientific nor can it be claimed that it gives the most accurate ranking of racism by state.
However, it offers some insight into where some of the most racist people in the United States reside.
To read more Click or Copy link below:
http://atlantablackstar.com/2014/05/14/top-10-racist-states-america/2/
You Might also like
For more than a century Canadians have gone abroad to do "good" in poorer parts of the world. Whether they spurred positive change or simply became foreign agents should be of interest to international non-governmental organizations.

Last week the Globe and Mail reported on the Canadian Christians who set off to proselytize in China in 1891. Focused on their medical achievements, the laudatory story hinted at a darker side of their work. It quoted a missionary who was "critical of the lifestyle most of the missionaries led, with their large houses, many servants and imported comforts which contrasted with the far lower standard of living of their Chinese fellow Christians."

Of more consequence than their opulence, Canadian missionaries aggressively supported colonial officials, as I discovered researching Canada in Africa: 300 years of aid and exploitation. By the end of the colonial period 2,500 Canadian missionaries were proselytizing in Africa and Canadian churches raised large sums to support mission stations across the continent.

Four Québec Jesuit fathers left for the Zambezi Mission in southern Africa in 1883. Alphonse Daignault rose through the ranks of the Catholic male congregation to become Prefect Apostolic of Northern Rhodesia (Zambia). Then Superior of the Jesuits' Zambezi Mission, Daignault backed the British South Africa Company's invasion of Mashonaland (Zimbabwe) in 1890. With their evangelizing shunned by the Ndebele people, the Jesuits and other foreign missionaries supported the "destruction of [the] Ndebele system."

Granted a charter from London in 1889, Cecil Rhodes' British South Africa Company offered white men in Kimberley, South Africa, 3,000 acres of land and mining rights if they joined the Company's fight to conquer part of today's Zimbabwe. Daignault offered the invading force chaplaincy services, mobile ambulances and nurses. The British South Africa Company paid the Jesuit nurses' costs and compensated Daignault's mission with conquered territory, including a major piece of land on the outskirts of today's Harare. In A History of Christian Missions in Zimbabwe, C. J. M. Zvobgo writes that the Harare "farm which consisted of 12,000 acres, beautifully surrounded by hills, was given to the Jesuits by the BSA Company in recognition of Fr Alphonse Daignault's service to the [Company's] sick."

The Québec Jesuit leader worked with Rhodes and British officials for years. He also supported the colonial authorities efforts to drive Africans from their traditional economies into wage work. Reflecting the settler community's attitude in 1897, Daignault told the deputy administrator of the city of Bulawayo in 1897 that the "natives of this country… are but grown-up children" prone to "idleness". "Men in authority who have the true interests of the natives at heart ought to treat the natives not only as children but are also to do all they can to make them acquire habits of work. As this cannot be obtained by mere moral persuasion, authority must necessarily be used."

To the north, dozens of Canadian missionaries helped the colonial authority penetrate Ugandan societies in the early 1900s. The preeminent figure was John Forbes who was a bishop and coadjutor vicar apostolic, making him second in charge of over 30 mission posts in Uganda. A 1929 biography of the founder of the White Fathers in Canada describes his "good relations" with British colonial authorities and the "important services Forbes rendered the authorities of the Protectorate."

In 1918 Forbes participated in a major conference in the colony, organized by Governor Robert Coryndon in the hopes of spurring indigenous wage work. The Vaudreuil, Québec, native wrote home that "it's a big question. The European planters in our area, who cultivate coffee, cotton and rubber need workers for their exploitation. But the workforce is rare. Our Negroes are happy to eat bananas and with a few bits of cotton or bark for clothes, are not excited to put themselves at the service of the planters and work all day for a meager salary." British officials subsidized the White Fathers schools as part of a bid to expand the indigenous workforce.

During World War I, Canadian White Fathers Ernest Paradis and Wilfred Sarrazin helped Brigadier General Edward Northey conquer German East Africa. Serving as civilian transport officers, Paradis and Sarrazin focused on organizing African carriers, who were generally press ganged into service. Paradis became Senior Transport Officer for all British forces east of Nyasaland and North of Zambezi in today's Malawi and Zimbabwe.

By volunteering to join the war, the White Fathers sought "respectability … in the eyes of planters and government officials." Afterwards, Paradis used his heightened status to gain the colonial administration's support for the White Fathers' educational work.

Paradis evangelised in Malawi for several decades. He led the White Fathers campaign to suppress "the Nyau", a religious belief among the Chewa and Nyanja people that included elaborate dances. In May 1929 Paradis wrote an East Africa article titled Devil Dancers of Terror that claimed Nyau dances were seditious.

Another Canadian missionary engaged in the White Fathers' efforts to outlaw Nyau customs in Nyasaland. Father Superior David Roy called on colonial officials to criminalize their dances and in 1928 Christians in the Likuni district, which he oversaw, killed two Nyau.

Thomas Buchanan Reginald Westgate was a Canadian missionary who joined the Church Missionary Society in German East Africa in 1902. With the support of the Ontario branch of the Church Mission Society, Westgate remained in Tanzania for over a decade. The Watford, Ontario, born missionary translated parts of the Old Testament into Cigogo, the language spoken by the Gogo nation in the central region of the colony.

Westgate worked with the colonial administration. His son, Wilfrid Westgate, authored a book about his father's life titled T. B. R. Westgate: A Canadian Missionary on Three Continents. In the biography, Westgate writes: "Governor [Heinrich] Schnee looked upon the mission as an asset to this part of the German colonial empire." German soldiers protected the Canadian's mission post when the population rose up in 1905 against the colonial authority.

Dissent was sparked by measures to force Africans to grow cotton for export, and an uprising known as the Maji Maji rebellion swept across the vast colony. It lasted two years. During the rebellion, Westgate coordinated with German Captain von Hirsch. Westgate's wife, Rita, later wrote, "at times we feared the Germans could not suppress the rising." The Germans succeeded, however, and the Westgates' fears did not come to pass.

In The Specter of Genocide: Mass Murder in Historical Perspective, Isabel Hull writes that 15 Europeans and 389 allied African soldiers were killed by the rebels. By contrast, writes Hull, whole areas of the colony were depopulated with 200,000 to 300,000 Tanzanians killed between 1905 and 1907.

Another Ontario native by the name of Marion Wittich (later Marion Keller) felt called to missionary work while working as an Anglican schoolteacher in Parry Sound, Ontario. She set off with her husband to proselytize in Tanzania in 1913. Her husband died in Tanzania and several years later she remarried a man by the name of Otto Keller, a German born US émigré, who the Pentecostal Assemblies of Canada sponsored to set up a mission station in western Kenya. In 1914 Otto Keller claimed that "here [Africa] we see the power of the devil in an astonishing form, almost beyond belief. The noise of drunken men and women, fulfilling the lusts of the flesh come to our ears. All seemingly bound and determined to fulfill the cup of their iniquity." By the time Marion Keller died in 1942, the socially conservative Pentecostal Assemblies of Canada had over 200 branch churches in Kenya.

An official history of the Canadian church attacked the anticolonial movement in Kenya as "a resurgence of primitive animism." Published in 1958, What God Hath Wrought: A History of the Pentecostal Assemblies of Canada notes: "Unfortunately, sinister forces were bidding high for the souls of Kenya's millions. In the 1950s there was to be a resurgence of primitive heathenism which had as its aim the expulsion of the white man from Kenya and the extinction of everything Christian in their land. This was the Mau Mau uprising." In putting down the uprising the British killed tens of thousands.

In 1893 Torontonians Walter Gowans and Rowland Victor Bingham founded what later became the largest interdenominational Protestant mission on the continent: the Sudan Interior Mission (Though SIM initially focused on modern- day Nigeria, at the time "Sudan" generally referred to the area south of the Sahara and North of the equator from the east to west coast of the continent.) Head of SIM for four decades, Bingham described "facing millions of people in the darkness of their heathenism" and "seeing the people in all their savagery and sin."

In the 1950s SIM described growing Nigerian nationalism as "dark and threatening". Adeleye Liagbemi writes that "the nationalist upsurge of the post-Second World War era engendered a new spirit of independence and experimentation; positive, forward-looking, purposeful and militant. The situation sent chills down the spines of some Christian missionary organizations in the country — including the S.I.M." In response SIM ramped up its literature output, deciding to "take the offensive out of Satan's hands", which it felt had "been winning the war of words among the new literates" of Africa.

Official Canada generally supported these Christian activists. Missionary leaders were well-regarded and received sympathetic media coverage. Leading business people financed mission work and Ottawa sometimes looked to missionaries for advice.

Most of the Canadians who proselytized in Africa were "good Christians" who saw themselves as helping to "civilize the dark continent". While formal colonialism is over and paternalism has been tempered, Canadians supportive of international NGOs should reflect on missionary history.

To read more Click or Copy link below:

http://www.pambazuka.org/pan-africanism/missionary-position-how-canada%E2%80%99s-christians-aided-colonialism-africa

Podcast: Play in new window | Download (Duration: 2:07:35 — 58.6MB) | Embed

Subscribe: Android | Email | Spotify | Blubrry | RSS

Today's REVIVE show topic is entitled:

"Lead, Learn, and Earn!"

#NewStudents #NewSchoolYear

#Education

It would be amazing to hear your perspective. So please call in we want to hear what you guys out there have to say always. Once again this show is for the people. We here at REVIVE thrive off of communication. So call us at (215)490-9832. This episode of REVIVE will be an open forum so all perspectives can be heard through great conversation.

Today's REVIVE show topic is entitled "Lead, Learn, and Earn!" we'll be discussing everything you need to know before jumping into this school year! This is a jam packed show that you don't want to miss! 

GUEST:

The Carter Link: The Carter Link is an ordinary family of four, being used by an extraordinary God! They share their gifts, talents and love in hopes of uplifting and inspiring others. They are always exploring, talking, or making music about our marriage, parenting, and different interests.  The Carter Link has been featured by VIBE.COM, ESSENCE.COM and THE HUFFINGTON POST, along with other numerous sites/blogs. Their videos have reached over 5 million people, while being shared over 200,000 times on Facebook. They have done commercials, been featured on Right This Minute, and even have been booked for live performances.

JOEL – husband, father, writer, speaker, rapper, elementary school teacher and mentor.

SUMMER – wife, stay-at-home mother, rapper and artist of many genres (fashion, painting, drawing, crafting, etc.)

DREAM – talented dancer and rapper, well behaved, fun 8-year-old who loves to dance & play. She is an awesome student and fast learner!

CHAMPION – smart, strong, tenacious 17 months old. He is growing way too fast and loves his family!

Toney Jackson: Toney Jackson began performing in the spoken word/'open mic' scene he helped to foster at Rutgers University in New Brunswick, NJ.  Since then, he has been recognized by the Academy of American Poets, won several poetry slams, and been a featured reader, performer, and workshop leader, at schools, theatres, and other venues across the country. Toney hails from New Jersey, where his love of words, learning, sharing, and community involvement led him towards a career in education.  He is currently in his 7th year of teaching at Nellie K. Parker elementary school in his hometown of Hackensack.  He is a dedicated teacher, a life long learner, and is currently writing and illustrating several children's books.

YOU CAN CATCH REVIVE EVERY SUNDAY 11 AM-1 PM & EVERY WEDNESDAY 8 PM-10 PM!!!  

It would be amazing to hear your perspective. So please call in we want to hear what you guys the listening audience out there have to say always. Once again this show is for the people. We here at REVIVE thrive off of communication. So call us at (215)490-9832  & follow on Twitter and Facebook @REVIVE_POC !

 WE NEED YOU ALL TO BE APART OF THE CONVERSATION!!

Betty Shabazz , born Betty Dean Sanders and also known as Betty X, was an American educator and civil rights advocate. She was the wife of Malcolm X.

Betty Dean Sanders was born on May 28, 1934, to the teenaged Ollie Mae Sanders and Shelman Sandlin. While Betty spent most of her childhood in Detroit, she may have been born in Pinehurst, Georgia. At the age of 11, Betty began living with businessman Lorenzo Malloy and his wife Helen, a prominent businessman and his wife. Helen Malloy was a founding member of the Housewives League of Detroit, a group of African-American women who organized campaigns to support black-owned businesses and boycott stores that refused to hire black employees. She was also a member of the National Council of Negro Women and the NAACP.

Despite their lessons on black self-reliance, the Malloys never spoke with Sanders about racism. Looking back in 1995, Shabazz wrote: "Race relations were not discussed and it was hoped that by denying the existence of race problems, the problems would go away. Anyone who openly discussed race relations was quickly viewed as a 'troublemaker.'" Still, two race riots during her childhood—in 1942 when the Sojourner Truth housing project was desegregated, and one the following year on Belle Isle—made up what Shabazz later called the "psychological background for my formative years". After she graduated from high school, Sanders left her foster parents' home in Detroit to study at the Tuskegee Institute (now Tuskegee University), a historically black college in Alabama that was Lorenzo Malloy's alma mater. She intended to earn a degree in education and become a teacher.

Nothing had prepared Sanders for Southern racism. So long as she stayed on campus, she could avoid interacting with white people, but weekend trips into Montgomery, the nearest city, would try her patience. Black students had to wait until every white person in a store had been helped before the staff would serve them—if they received any service at all. When she complained to the Malloys, they refused to discuss the issue; in a 1989 interview, Shabazz summarized their attitude as "if you're just quiet it will go away."

Sanders' studies suffered as a result of her growing frustration. She decided to change her field of study from education to nursing. The dean of nursing, Lillian Harvey, encouraged Sanders to consider studying in a Tuskegee-affiliated program at the Brooklyn State College School of Nursing in New York City. Against her foster parents' wishes, Sanders left Alabama for New York in 1953.

In New York, Sanders encountered a different form of racism. At Montefiore Hospital, where she performed her clinical training, black nurses were given worse assignments than white nurses. White patients sometimes were abusive toward black nurses. While the racial climate in New York was better than the situation in Alabama, Sanders frequently wondered whether she had merely exchanged Jim Crow racism for a more genteel prejudice.

During her second year of nursing school, Sanders was invited by an older nurse's aide to a Friday-night dinner party at the Nation of Islam temple in Harlem. "The food was delicious," Shabazz recalled in 1992, "I'd never tasted food like that." After dinner, the woman asked Sanders to come to the Muslims' lecture. Sanders agreed. After the speech, the nurse's aide invited Sanders to join the Nation of Islam; Sanders politely declined. The older woman told Sanders about her minister, who was not at the temple that night: "Just wait until you hear my minister talk. He's very disciplined, he's good-looking, and all the sisters want him."

 

Sanders enjoyed the food so much, she agreed to come back and meet the woman's minister. At the second dinner, the nurse's aide told her the minister was present and Sanders thought to herself, "Big deal." In 1992 she recalled how her demeanor changed when she caught a glimpse of Malcolm X:

 

Then, I looked over and saw this man on the extreme right aisle sort of galloping to the podium. He was tall, he was thin, and the way he was galloping it looked as though he was going someplace much more important than the podium. … He got to the podium—and I sat up straight. I was impressed with him.

 

Sanders met Malcolm X again at a dinner party. The two had a long conversation about Sanders's life: her childhood in Detroit, the racial hostility she had encountered in Alabama, and her studies in New York. He spoke to her about the condition of African Americans and the causes of racism. Sanders began to see things from a different perspective. "I really had a lot of pent-up anxiety about my experience in the South," Shabazz recalled in a 1990 interview, "and Malcolm reassured me that it was understandable how I felt."

Soon Sanders was attending all of Malcolm X's lectures at Temple Number Seven in Harlem. He always sought her out afterwards, and he would ask her a lot of questions. He also began to pressure her to join the Nation of Islam. In mid 1956, Sanders converted. Like many members of the Nation of Islam, she changed her surname to "X", which represented the family name of her African ancestors that she could never know.

Betty X and Malcolm X did not have a conventional courtship. One-on-one dates were contrary to the teachings of the Nation of Islam. Instead, the couple shared their "dates" with dozens, or even hundreds of other members. Malcolm X frequently took groups to visit New York's museums and libraries, and he always invited Betty X.

Although they had never discussed the subject, Betty X suspected that Malcolm X was interested in marriage. One day he called and asked her to marry him, and they were married on January 14, 1958, in Lansing, Michigan. By coincidence, Betty X became a licensed nurse on the same day.

Over time, the family dynamic changed, as Malcolm X made small concessions to Betty X's demands for more independence. In 1969, Shabazz recalled:

"We would have little family talks. They began at first with Malcolm telling me what he expected of a wife. But the first time I told him what I expected of him as a husband it came as a shock. After dinner one night he said, "Boy, Betty, something you said hit me like a ton of bricks. Here I've been going along having our little workshops with me doing all the talking and you doing all the listening." He concluded our marriage should be a mutual exchange."

The couple had six daughters. Their names were Attallah, born in 1958 , Qubilah, born in 1960 Ilyasah, born in 1962; Gamilah Lumumba, born in 1964 and twins, Malikah and Malaak, born in 1965 after their father's assassination and named for him.

 

On February 21, 1965, in Manhattan's Audubon Ballroom, Malcolm X began to speak to a meeting of the Organization of Afro-American Unity when a disturbance broke out in the crowd of 400. As Malcolm X and his bodyguards moved to quiet the disturbance, a man rushed forward and shot Malcolm in the chest with a sawed-off shotgun. Two other men charged the stage and fired handguns, hitting him 16 times.

Shabazz was in the audience near the stage with her daughters. When she heard the gunfire, she grabbed the children and pushed them to the floor beneath the bench, where she shielded them with her body. When the shooting stopped, Shabazz ran toward her husband and tried to perform CPR. Police officers and Malcolm X's associates carried him to a stretcher, and brought him to Columbia Presbyterian Hospital, where he was pronounced dead.

Shabazz had difficulty sleeping for weeks after Malcolm X's assassination. She suffered from nightmares in which she relived the death of her husband. She also worried about how she would support herself and her family. The publication of The Autobiography of Malcolm X helped, because Shabazz received half of the royalties.(Alex Haley, who assisted Malcolm X in writing the book, got the other half. After the publication of his best-seller Roots, Haley signed over his portion of the royalties to Shabazz.

 

Actor and activist Ruby Dee and Juanita Poitier (wife of Sidney Poitier) established the Committee of Concerned Mothers, to raise funds to buy a house, and pay educational expenses for the Shabazz family. The Committee held a series of benefit concerts at which they raised $17,000. They bought a large two-family home in Mount Vernon, New York. Also living in Mount Vernon at that time was her close friend, the musician and civil rights activist Nina Simone.

Shabazz never remarried. She raised her six daughters alone, aided by annual royalties from her husband's book The Autobiography of Malcolm X and other publications. In late 1969, Shabazz completed an undergraduate degree at Jersey City State College, followed by a doctoral degree in higher-education administration at the University of Massachusetts. Shabazz began to accept speaking engagements at colleges and universities. She often spoke about the black nationalist philosophy of Malcolm X, but she also spoke about her role as a wife and mother. She then accepted a position as an associate professor of health sciences at New York's Medgar Evers College. The student body at Medgar Evers was 90 percent black and predominantly working-class, with an average age of 26. Black women made up most of the faculty, and 75 percent of the students were female, two-thirds of them mothers. These were all qualities that made Medgar Evers College attractive to Shabazz.

By 1980, Shabazz was overseeing the health sciences department, and the college president decided she could be more effective in a purely administrative position than she was in the classroom. She was promoted to Director of Institutional Advancement. In her new position, she became a booster and fund-raiser for the college. A year later, she was given tenure. In 1984, Shabazz was given a new title, Director of Institutional Advancement and Public Affairs; she held that position at the college until her death. On June 1, 1997, young grandson Malcolm set a fire in Shabazz's apartment. Shabazz suffered burns over 80 percent of her body, and remained in intensive care for three weeks, at Jacobi Medical Center in the Bronx, New York. She underwent five skin-replacement operations as doctors struggled to replace damaged skin and save her life. Shabazz died of her injuries on June 23, 1997.